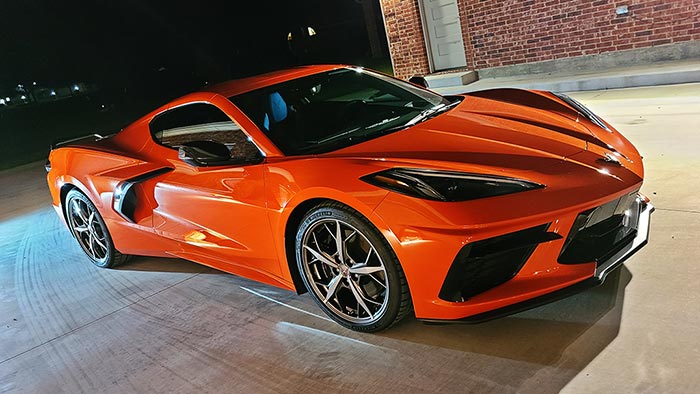 Photo Credit: Jeremy Welborn

Earlier this year we learned that Sebring Orange, Zeus Bronze, and Shadow Gray would be ending their runs as exterior colors on the C8 Corvette. Today, Chevrolet made it official by placing two of those three colors on national constraint with zero availabilities for the rest of 2021 model year production.
GM had told dealers that the final order dates for Sebring Orange and Zeus Bronze would be 4/29 while fans of Shadow Gray have one more month to get their orders placed by the 5/27 deadline. In a memo to dealers today, the Orange and Brown exteriors have officially ended with no more orders available.
Photo Credit: Keith Cornett

If you have a 2021 Corvette order already placed within your dealer's allocation, the car in your chosen color will be built. If you have an initial order still waiting to be placed within allocation, your dealer will reach out to you to ask for a different color selection.
Also on a national constraint is the dealer-installed LPO RZ9 – Visible Carbon Fiber Grille Inserts.
Photo Credit: Chevrolet

Back in February, we came across the three new color names and RPO codes through two different European Corvette dealers that appear to confirm that Chevrolet will be replacing those retired 2021 colors with new shades of Orange, Brown, and Gray on the 2022 Corvette order forms. The new colors are Amplify Orange Tintcoat (GC5), Caffeine Brown Metallic (G48), and Hypersonic Gray Metallic (GA7). These are the internal GM names and we expect the Corvette Team to rename them for marketing purposes.
With the NCM Bash coming up next week, we are hoping to see some examples of these new colors at the event.

Source:
Chevrolet.com

Related:
Uh Oh, Looks Like These 2021 Corvette Exterior Colors Are Set To Be Retired
Here are the Internal GM Names for the New Exterior Colors on the 2022 Corvette
[POLL] What Should Replace Sebring Orange on the C8 Color Palette?