Recently we shared the news that three current exterior colors for the 2021 Corvette will soon be retired. Those colors are Sebring Orange, Shadow Gray, and Zeus Bronze. The final order dates for the colors are rapidly approaching with Sebring Orange and Zeus Bronze available for order through April 29th while Shadow Gray fans have until May 27th to order the color.
So now, of course, the attention now turns to what exterior colors maybe replacing those three for the 2022 Corvette model year.
Conventional wisdom, at least with Shadow Gray and possibly Sebring Orange, is that those colors will be replaced by similar colors, meaning a new Gray and Orange to replace the outgoing colors. The Zeus Bronze is such a novelty color that it's hard to say how that one will go.
However, we do have some insight thanks to a Corvette fan who suggested I broaden my search parameters, and thanks to him, I think we might have stumbled on the internal color names and RPO codes for the new colors. As we have previously discussed, all GM exterior colors have two names. There is the actual color name and then the marketing name that is generally unique to each vehicle. An example is the Corvette color Zeus Bronze Metallic that is also the exact same color as Cadillac's Bronze Sand Metallic. The real name for that exterior is Zeus 1 Metallic.
We came across these three new color names thanks to the European Corvette dealer's website that shows what is expected to be the European C8 model line-up and we have high confidence that this info is correct. The European C8 Corvette will only be offered as a 3LT trim package with select colors available for the Coupe and Convertible. Because these are expected to arrive as 2022 model year Corvettes, the dealer site shows the new color names that will be replacing Sebring Orange, Shadow Gray, and Zeus Bronze.
The new 2022 Corvette model year colors are listed as:
GA7 Hypersonic Gray Metallic
G48 Caffeine Brown Metallic
GC5 Amplify Orange Tintcoat
We believe these are the internal names for the colors as the dark red Convertible on the site shows the name Tactical Red Tintcoat (GPH) which corresponds to the marketing name and RPO for "Red Mist Metallic", and the disclaimer below it says that it's replacing RPO G1E which was Long Beach Red. The example below shows the current configurations (2021) with the new color names listed as a disclaimer under each color: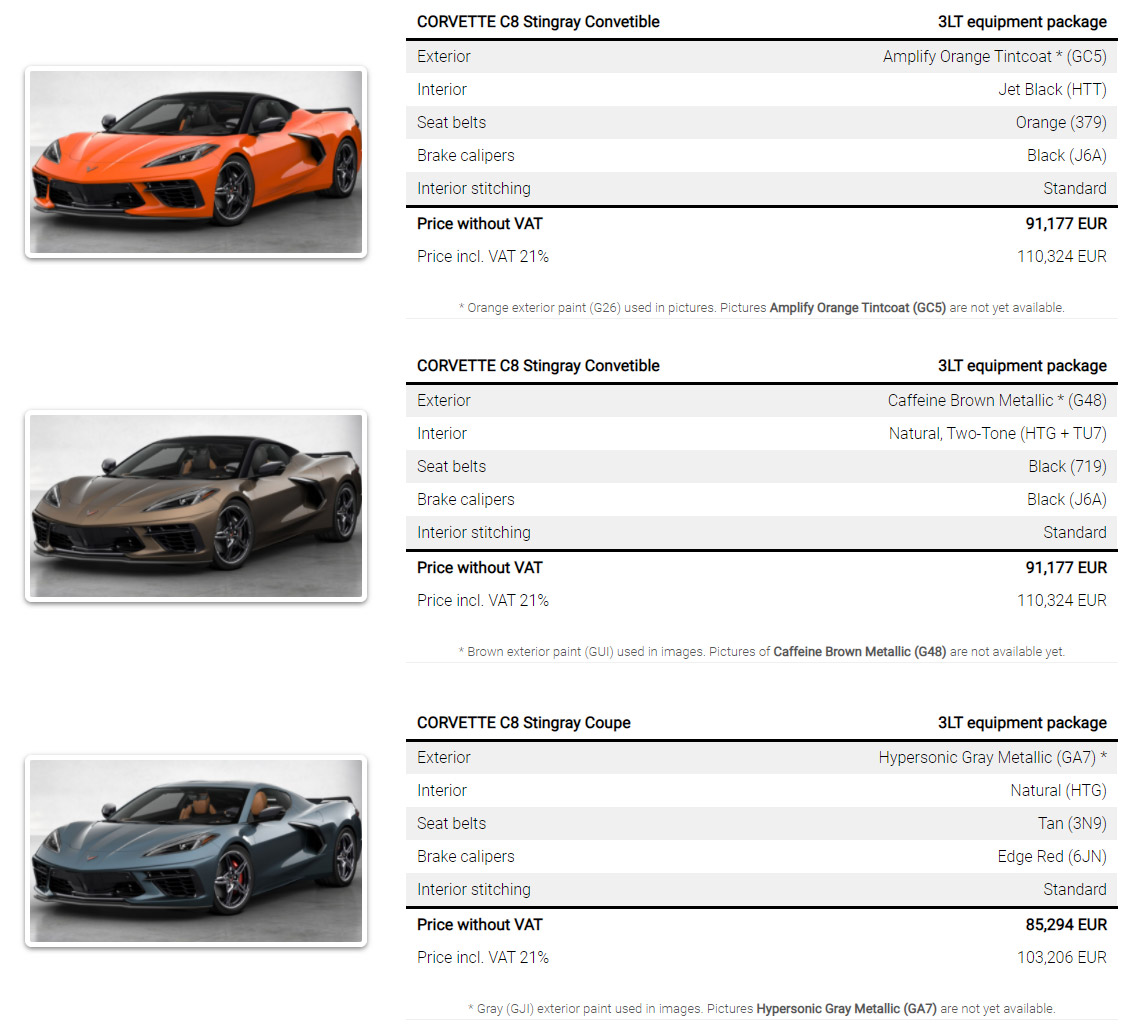 We've searched several sources looking for any kind of data for paint chips or other examples for the new colors but haven't found anything yet for the 2022 colors.
Again, no real surprises with a Gray replacing a Gray and Orange replacing Orange. We are hoping that the new Hypersonic Gray will match the color of the No. 4 Corvette C8.R racecar, but other than that, we have no feelings at all towards the new Orange although we all know which one Alex voted for in our recent poll?.
As for Caffeine Brown, we can't tell if they are going to go lighter or darker with that shade but already I can already hear the voices of the Corvette Nation faithful crying out in terror and were suddenly silenced with the news that another Brown exterior is coming. Only 548 Corvettes were built in Zeus Bronze Metallic which represented 2.69% of all 2020 Corvettes produced and it finished dead last of the 12 exteriors. A lighter or darker shade of the same color won't change that rank.

Related:
Uh Oh, Looks Like These 2021 Corvette Exterior Colors Are Set To Be Retired
The Last Day to Order a 2021 Corvette is June 17th
Paint Chip Confirms Zeus Bronze is the Same Color as Cadillac's Bronze Sand Metallic