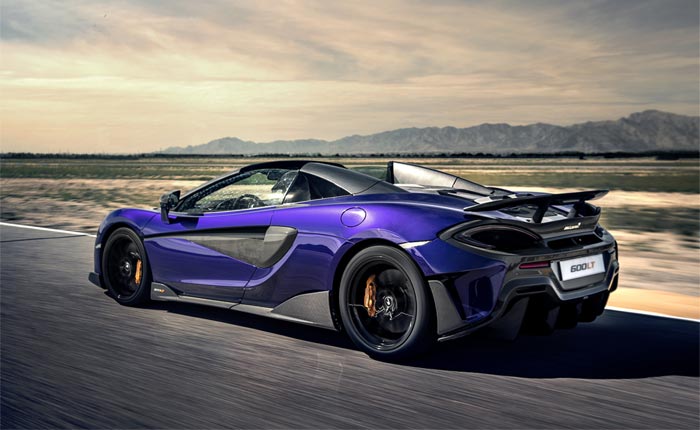 Welcome to "Colors," Corvette Blogger's bi-weekly to once monthly segment where our Millennial representative and diehard exterior paint enthusiast, Alex, aka the Corvette Kid (just trying it out), aka "I" suggest a color that I would like to see become a part of the C8's palette in the future and, based on the quality of my suggestion, my loyal readers either call me a young idiot or a visionary genius that gives them hope for the future of the Corvette brand. Let's see which way the crowd falls this week as we tackle one of the best exotic car colors in existence, purple!
Now, purple is a color that takes a certain amount of confidence and dedication to pull-off. If you are related to any Minnesota Vikings fans, you know what I'm talking about here, purple is a color that necessitates devotion, like wearing a Randy Moss jersey to a wedding-level devotion. Chevrolet, on the other hand, always seems a bit ashamed when they go purple. Instead of embracing the Roman color of power and wealth, they have traditionally hid their purple pride behind different monikers like Black Rose or Dark Cherry. There were a few, glorious but brief instances where they allowed the dreaded p-word to slip into their literature in the 1990's, but under the current management, it has been nowhere to be found.
The transition of their sportscar, our sportscar, America's sportscar, to a glamorous mid-engine layout is the perfect opportunity for Chevrolet to get over their violet-phobia.
Purple is a hot commodity in the supercar realm right now. Lamborghini has several shades on offer, including the excellent Viola SE30 that has seen a modern resurgence in popularity after debuting on the 30th Anniversary Diablo.

The best looking of the three US-spec 7.0L (427 ci!) V12 Aston Martin Vulcans was also boldly ordered in Purple and the 991 911 GT3 RS' signature hue was a non-metallic purple called Ultraviolet. On the super sedan front, the new, F90 generation BMW M5 has multiple purple shades available but, up to this point, the only American performance machines to embrace the (choose your own reference here!)

a) Hendrix fans should insert: Purple Haze
b) if you are more of a Prince kind of person read here: Purple Rain

…has been Dodge with the Stryker Purple Gen V Viper and the Charger/Challenger siblings' retro Plum Crazy paint.

Each of the colors mentioned above are some of my favorites offered by their respective manufacturers but I've been on a bit of a McLaren kick since the monster 765LT was announced so for the specific shade I'd like to see duplicated for America's new mid-engine darling, we are going to check in with the folks in Woking, England.
McLaren actually has a few purples to choose from. One of them is the stunning Amethyst Black that was seen on the P1 driven by Jeremy Clarkson in the premiere episode of The Grand Tour (1:54-18:18 and 41:10-58:16) but it is a bit darker than what the C8 needs. Lantana Purple is more what I have in mind as the perfect McLaren paint for the new Stingray to poach. I could go in depth as to why it is a great color, but just look at it! It is gorgeous, so it would be reasonable to assume that the newest member of the Corvette family would look gorgeous slathered in it.
What do you think Corvette Nation? Would you order a modern Purple People Eater (maybe they could offer a GS-style heritage package for purple cars that added a red Pegasus in front of the wheel wells?) or am I off my rocker for even bringing up a color other than red?

Related:
Colors We Would Like to See on the C8 Corvette: BMW's Atlantis Blue Metallic
Colors We Would Like to See on the C8 Corvette: Pearl White
The C8 Corvette Needs a 'Paint to Sample' Program