One of the most significant goals that the Corvette Team had when they set out to create the first ever mid-engine version of America's Sports Car was to appeal to a clientele that used to look down on the Corvette as "not premium enough" while also silencing those pesky automotive journalist types who bemoan the 'Vette's interior at every turn (deserved or not). While the layout of the eighth-gen Corvette's cockpit has had some critics, the materials and fit and finish inside of the mid-engine marvel have been met with universal acclaim.
We believe that the best way to continue this high-end focus with a shift to the exterior would be to finally offer Corvette customers the opportunity to choose their own paint colors from outside of the mainstream color palate.
The majority of manufacturers that the Corvette will be pitted up against in the minds of these discerning new customers already offer varying levels of paint customization on their cars. The big one is Porsche's Paint to Sample or PTS but there is also Audi Exclusive, BMW Individual, and Aston Martin Q, to name a few. Even the 'Vette's former domestic rival, the SRT/Dodge Viper, offered a 1 of 1 program that allowed buyers to choose from 8,000 paint colors (along with 24,000 hand-painted stripes, 10 different wheel options, and a bevy of interior combinations and standalone options). Each of these Snakes also came with a peace of mind guarantee that they wouldn't build one identical to yours, no matter how much money your unimaginative neighbor tried to throw at them.
To truly make the jump into the exotic realm, General Motors needs to introduce a similar program for their new halo car.
Benefits for GM
The added prestige of implementing an option for limitless paint selections should be enough of a selling point on its own but it is also a no-brainer for General Motor's all-important bottom line. You have likely heard GMC's Denali trim referred to as a money-printing machine for its parent company; a PTS system could be the exact same thing for the General. Porsche charges customers around $12,000 for the privilege of selecting a special hue for their new 911, and people pay it! Dodge reported a $20,000 increase in average Viper transaction prices after they introduced their 1 of 1 program halfway through the fifth gen's life cycle.
On top of uncompromising performance, America's Sports Car has long been about added value over its competitors. Because of this, GM will, more than likely, have to offer a good deal in comparison to the Porsche model but even at something around $7,000 a pop, the fiercely loyal fan base would likely be lining up to get their C8 color matched to their unique midyear or C3 'Vette. Such a system would bring in piles of cash while also making it even more difficult for customers to resist the option sheet in an attempt to build a bare-bones order that would, reportedly, lose money for GM.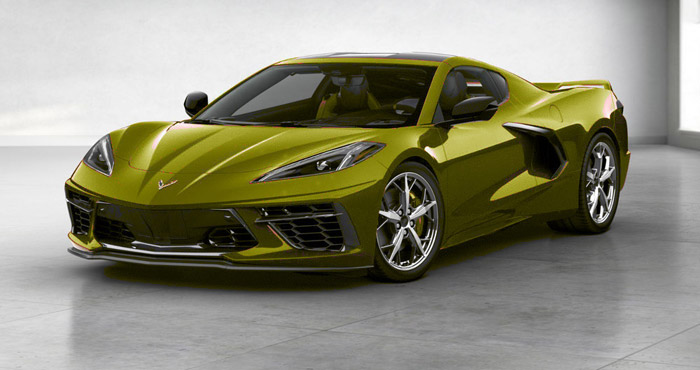 Benefits for Buyers
Obviously getting your new mid-engine baby in any color your heart desires is the biggest selling point of a PTS-type system. Even on cars like 911s or Vipers that are produced in far fewer numbers than the Corvette, making it extremely unlikely that owners in the majority of the country will even see another example on the road, let alone one that has been painted the exact same color, buyers saw tremendous value in being able to create their own, beautiful unicorn. This added individuality isn't the only perk either. If you fork over $7ish thousand dollars up front to get premium pigmentation for your car, you could see even more than that when the time comes for you to move on to your next ride. As long as your chosen paint isn't offensive to the retinae of the average layperson, the second owner will more than likely pay more for a unique car than they would for another Black/Arctic White/Torch Red model. A quick Cars.com search for the most desirable of recent 911s, the manual 991.2 GT3, reveals 53 available pre-owned cars. Those 53 cars can be broken down as follows: 31 in normal colors, 13 PTS cars, 8 cars that we excluded because of incomplete listings (no pictures, listed price, etc.), and one IMSA GT3 Cup car that we also didn't count in our calculations. The average asking price for a "normal" GT3 comes out to a healthy $171,517. The average price of the same car that has been Painted to match a Sample? $187,052.
Of course, we know that there are other factors at play in these prices and these are just asking prices, but the primary reason for this price disparity is the easiest one to see, the paint. With a difference of over 15,000 resale dollars, wouldn't you happily pony up an extra $5-10k up front?
Will GM Actually Implement a PTS-Style Option for the Corvette?
It is anyone's guess at this point but it doesn't seem to currently be in the cards. Two excellent opportunities to introduce such a program have recently passed us by. When the Assembly Plant received its new $439 million paint shop, many were expecting an announcement about further customization options to follow, but one never came. That was in the middle of an existing Corvette generation though, so it wasn't surprising that they didn't want to implement such a major change to production at that point.
7.18.19, when all eyes were on the reveal of the mid-engine C8 in Tustin, CA, Chevrolet had another golden opportunity to tout a multitude of new paint options. Instead, they stuck to their old exterior color playbook.
One idea that gives us some hope is a slow roll-out of the program as a Z06 (or similar) exclusive option that could trickle down to other Corvettes once the processes are perfected.
Time will tell if GM has any Customized Corvette Paint options up their collective sleeves but until anything becomes official, all we can do is continue reminding them that there is demand for such a program and experiment with different color wraps like Corvette Forum member, "Mookster" did with his C7 ZR1. How could the good folks at GM see creations like this and not want to profit from making more unique 'Vettes of their own?

Related:
Colors We Would Like to See on the C8 Corvette: Pearl White
Colors We'd Like to See on the C8 Corvette: Spitfire/Krypton Green
Colors We'd Like to See on the C8 Corvette: Rally Green Metallic