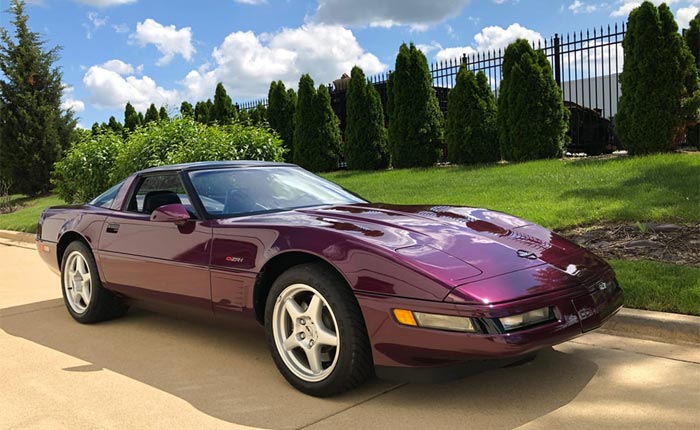 In March of 1989 Chevrolet introduced the C4 ZR-1 the Geneva Auto Show, ushering in an era of world-class American performance. I came into this world three months later and would already be obsessed with cars by the time customers began taking delivery of their production ZR-1s. I don't think it would be overstating things to say that a ZR-1 is my birthright. I talk about the current ZR1 a lot (my wife just rolled her eyes at that gross understatement) and while that car is my dream, I would still be on cloud nine if I had a more age (and price) appropriate version in my life.
During the process of writing this piece, I spent some time reading older works dedicated to the entire C4 ZR-1 program. There are a ton of wonderful reads out there about these highly significant, fascinating, but ultimately underappreciated fourth-generation Corvettes and I encourage all Corvette fans to look into as many as you can find. The quintessential of these being The Heart of the Beast by Anthony Young (fun/relevant brag: I once had the pleasure of driving the exact car on the cover of that book!)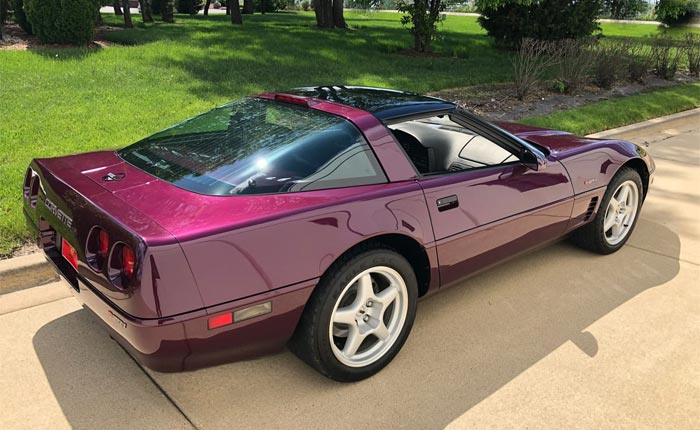 Now, without any further gilding of the lily, the finest example of the C4 Generation ZR-1 currently available to the public: a 1995 example at Corvette Mike's Midwest in Burr Ridge, IL.
It is number 89 of the 448 that were built during the final run in 1995, only 25 of which wore this stunning Dark Purple Metallic. Strangely this wasn't the rarest color of the year. In fact, there were three colors (12 Admiral Blue, 13 Bright Aqua, and 16 Dark Red) that had fewer takers than Dark Purple in 1995 but all of them were also available in earlier years bringing their total numbers above 25; making this, one-year hue, an exceedingly uncommon find.

Throughout its 24-year life, this car has only traveled 9,905 miles and other than some creasing on the leather seats, it appears to be in showroom condition. Adding further interest and rarity is the fact that this was one just 18 ZR-1s delivered to Canada in 1995. The accompanying laminated window sticker is another compelling read. Along with English and French translations for each option, it shows a Total Purchase Price (Prix) of $86,495. Besides the high Canadian Dollar amount, it displays MPG/ L/100 KM and features GM of Canada logos instead of the Chevrolet logos found on an American version.

Luckily the speedometer and odometer have been switched over to standard; there is something wrong about a Corvette displaying how fast it goes in KPH! Don't tell your other ZR-1 owning friends but this car comes with a spare OEM windshield worth its weight in gold. Finally, it comes with the dual removable roof option featuring a glass top along with a body-color one.

It is no exaggeration to say that the ZR-1s from my first 6 years of existence were some of, if not the most important Corvettes in history. They and the other performance variants that they preceded are largely responsible for my love of 'Vettes; without them, I very well could be writing about Vipers or Shelbys right now.

A total of 6,922 C4 ZR-1s left the Bowling Green Assembly Plant during production and to ease my pain when this exceptional specimen finds a buyer, I will just figure that, after reading this piece, they were thinking about my birthday and I'll look forward to seeing its purple paint glisten in the Colorado sun next June!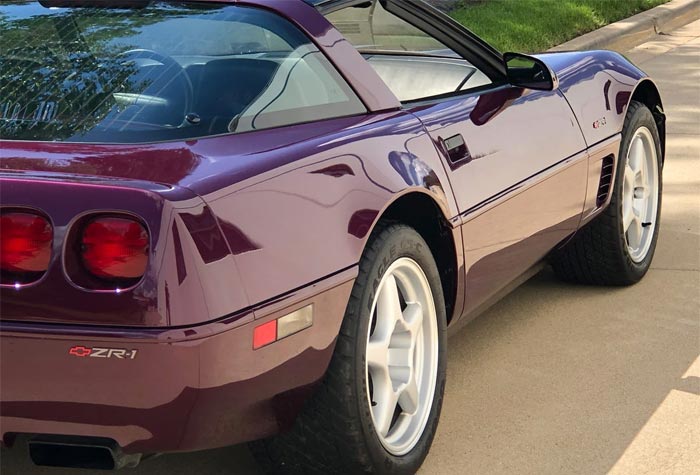 So what does it take to bring this rare, low-mileage Corvette ZR-1 home to your garage? Corvette Mike Midwest has it currently priced at $45,990. See more photos of this great C4 ZR-1 at CorvetteMikeMidwest.com or call 630-230-0441 for more info.

Source:
Corvette Mike Midwest

Related:
1995 Corvette ZR-1 Sells for $16,500 at Mecum Kissimmee 2019
Ready for Export 1994 Corvette ZR-1 with RHD Conversion and Only 3,856 Miles
Corvette ZR-1 On Display at Mercury Marine Museum