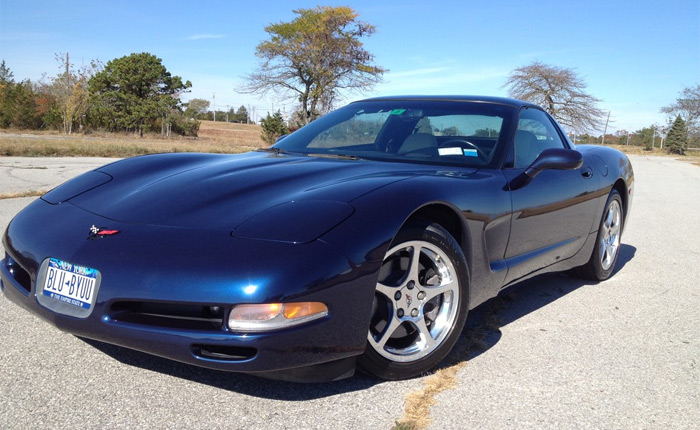 Everyone knows that the best bang for your buck in the Corvette world right now are the fifth-generation cars. What many don't know however is that it is that even on a modest, C5 budget, you can pick up a Corvette as rare as even the most sought-after midyear 'Vettes, if you can track one down, and half of the fun in car collecting is in the hunt!
The Corvette team got especially creative with their paint choices in the late '90s and, to a lesser extent, the early 2000s making for some rare C5s. Neat shades to look for and their production number from each year are as follows but if you are shopping on a budget beware, a couple of these paints will add quite a premium to the bargain Corvette if you are ever lucky enough to cross paths with an available example.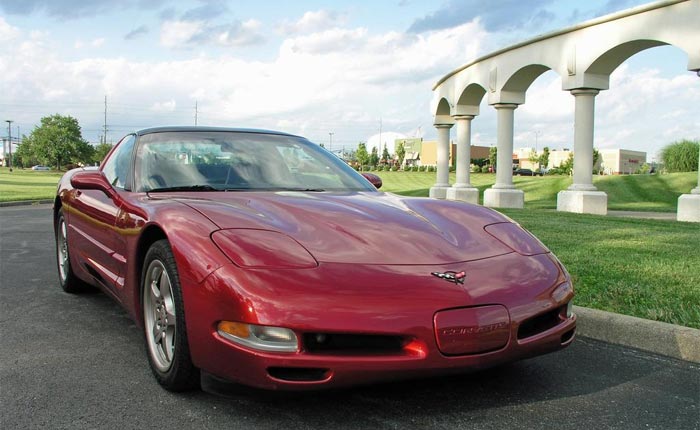 C5 Corvette in Carmine Red

For the inaugural year of C5 production, 1997, Chevrolet only offered seven exterior colors on their halo model. Only four of those colors actually ended up being made in significant numbers though, leaving three hard to find '97 Corvettes leftover.
1998 is when things got really interesting. The convertible made its debut and throughout the year, there were 12 different exterior colors available. All three of the rarest '97 colors remained but Nassau Blue and Carmine Red really caught on, both being optioned on more than 1,000 cars in their sophomore year. Fairway Green remained uncommon although it was also ordered in greater numbers than in 1997; 153 coupes and 70 convertibles had the "need for green."
1997 Corvette in Fairway Green

1998 was also a banner year for purple Corvettes with not one, but two shades available. The first was Pace Car Purple, which is pretty self-explanatory as the color of the official pace car replicas. 1,163 of these were built (547 manuals and 616 automatics), all based on the new convertible body style. The other, lesser-known Purple went by the name Medium Pearl Metallic. In total, 229 coupes and 152 convertibles were painted this color.
Then, there were the two unobtanium colors; Navy Blue Metallic and Aztec Gold. Navy Blue was rare due to very late availability and would gain momentum in 1999 but in '98 it was the rarest color, only appearing on 12 coupes and 2 convertibles. GM had high hopes for the fancy Aztec Gold paint but multiple production issues resulted in just 12 coupes and 3 convertibles being painted this color before it was canceled.


Things settled back down after the ambitious second year of C5 production. Exterior paint choices which were all produced in four-digit numbers. Nassau Blue is the toughest one to get your hands on with just 1,034 produced and our old friend, Navy Blue was all the way up to 1,439, ending its short run on the hard to find list. Chevrolet continued its trend of offering a new body style each year for the final time in 1999 with the introduction of the rarest model in the entire C5 production run, the Hardtop, or Fixed Roof Coupe (FRC). For '99 and '00 (the only two years it was offered), we want to examine this underappreciated, manual-only gem of the fifth-gen lineup.

Overall, exterior colors were back into the double digits for the year 2000 with 10 options. None of the paints were nearly as scarce as two years prior, but there are a couple to look out for. Nassau Blue Metallic was the rarest color in 2000 (its final year in circulation) with 851, making it the only color under applied to less than 1,000 units. With production going over 33,000 units in 2000, there were only two other colors selected by less than 2000 customers. Arctic White just barely didn't reach the 2K mark. White ended up on the exterior of 979 coupes and 685 convertibles, in addition to the 315 FRC's mentioned above. Sandwiched between Nassau Blue and Arctic White was the triumphant return of green to the palette. Dark Bowling Green Metallic was chosen by 886 coupe owners and 777 convertible buyers for a total of 1,663 units.
Nassau Blue Fixed Roof Coupe

2001 saw paint choices limited to nine. Speedway White took the place of Artic White in the rotation and was much more popular than its predecessor, scoring 2,465 orders. Surprisingly though, that respectable number puts SW at second place on the list of least popular 2001 Corvette colors, just edging out Navy Blue which was applied to 2,587 'Vettes that year. The only truly rare 2001 Corvette paint is Dark Bowling Green Metallic. In its second year of availability, DBGM saw demand fall by more than 50% to just 919 orders. Compared to the party in 1998, the new millennium's colors had stagnated a bit. Luckily, Chevrolet saved it by replacing the Fixed Roof Coupe with a new, high-performance model, the Z06. Just like the FRC that it was based on, Z06 colors were limited to five, but they are still worth a look, take a look at the table below for a full breakdown of Z colors.

2002 is when the color choices started to normalize to what we are used to today and while there weren't any excessively rare colors, the scarcest was Speedway White (no longer available on the Z06) with a total production of 1,763. Every other color, with the exception of Light Pewter Metallic (2,650) was built in excess of 3,000 units.
Speedway White was again, by far, the rarest color in 2003 with just 679 Corvettes wearing the color at the end of the year (the next least popular was Quicksilver at 2,387). The most popular color for 2003 is also worth a look because of its significance. For the 50th anniversary of America's Sports Car, Chevrolet offered a special Anniversary Red which is still one of the best deep metallic reds they ever produced. A total of 11,632 cars ended up being built in Anniversary Red (4,085 Coupes and 7,547 Convertibles).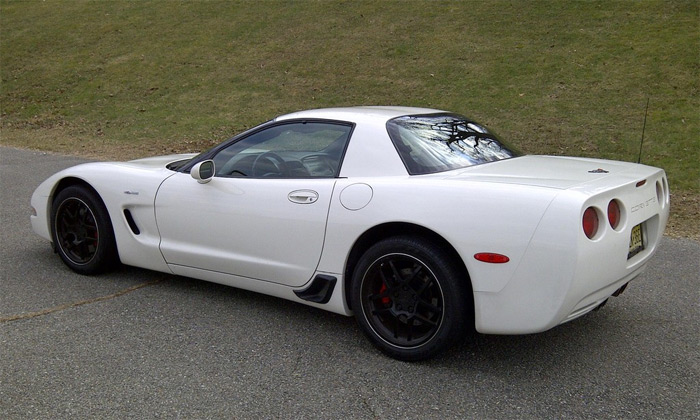 2001 Corvette Z06 in Speedway White
The, now ubiquitous, Arctic White returned in the C5's final model year and was the rarest of the eight exterior options in 2004 but it was still a far cry from the unique hues that Chevrolet offered early in the C5's run at 1,741 units. The '04 Commemorative Edition got 2,025 Z06s, 2,215 Coupes, and 2,659 Convertibles painted in LeMans Blue Metallic in celebration of the C5.R's successes at the 24 Hours of LeMans, those 2,025 Z06s remain the most desirable C5s of all.
We want to close by reiterating what a superb buy the C5 Corvette is. Hagerty's valuation tool points to an average value of $16,800 for the newest (2004) coupe models and $20,400 for 2004 convertibles. Even the manic Z06 can be had for relative chump change. Hagerty puts an average value of just $22,500 on the 2004 Z. Earlier models are even more reasonable and by utilizing the information presented here and a little hard searching, you can get one for yourself that is unlike any other one that you are likely to cross paths with on the road. Happy hunting!

Source:
Photo Credits: CorvetteImages.com
Related:
Corvettes on eBay: 1998 Corvette in Rare Medium Purple Pearl Metallic
Corvettes on Craigslist: 1998 Fairway Green C5 Convertible with a Power Hard Top
Corvette Values: 1998 Aztec Gold Corvette Coupe