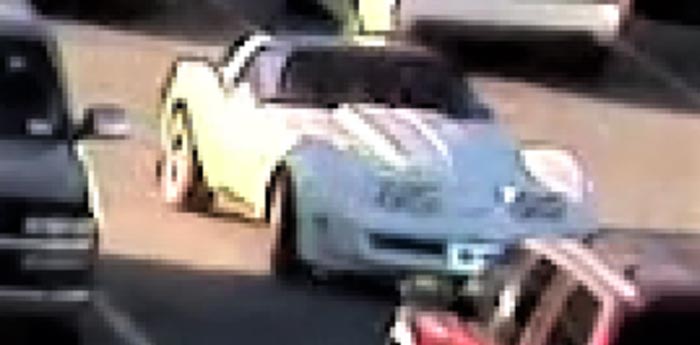 There seems to be a lot of stolen Corvettes in the news lately so make sure you are taking steps to secure your Corvette wherever you park it. Unfortunately, we have another case of a Corvette owner going into a store and coming back to find his ride was stolen in 60 seconds…
Police in Anderson, South Carolina are looking for a white 1980 Corvette with the license registration # IBN835 that was stolen Thursday from the Walmart parking lot on 28 Bypass in the city.
Pictures of the car were enlarged from security tapes and while not the clearest, the Corvette doesn't appear to be stock and therefore could be easier to identify.
Some of the identifying characteristics we see is that the car looks to have flared quarter panels and a raised aftermarket hood. The t-tops are dark and not body color, so we believe it has the transparent or smoked tops, and the front pop-up headlights are in the raised position. We also see a shiny front license plate but can't make out any details.

If you know or have seen this Corvette, contact Sgt. Chris Aman of the Anderson Police Department at 864-231-7621 or email [email protected]

Source:
Facebook

Related:
[STOLEN] Police Looking for Duo Who Paid for a C3 Corvette with a Counterfeit Check
[STOLEN] Car Thief in Stolen C5 Corvette Leads Police on High Speed Chase In Two States
[STOLEN] Joyride in Unattended C6 Corvette Grand Sport Ends With Crash Through a Fence