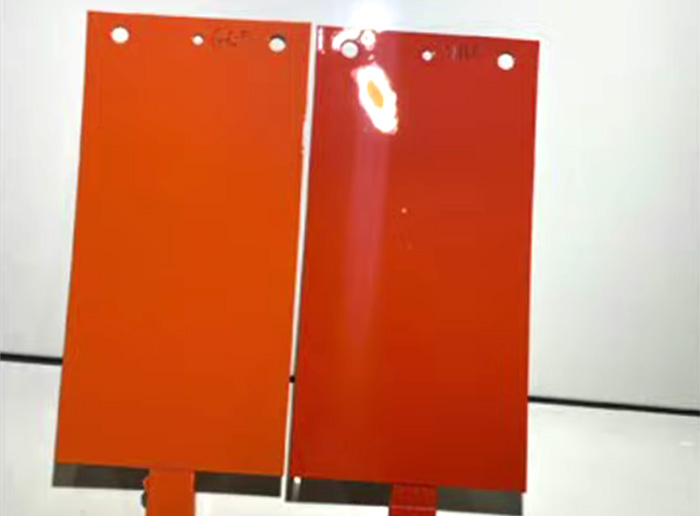 Photo Credit: Horsepower Obsessed

It's always an exciting time as we get closer to the reveal of the new Corvette model year and this year is proving no different as new details continue to leak out in regards to the 2022 Corvettes.
It was a little over a month ago that we learned that there would be three new colors for the 2022 Corvette model year. That news came from a European dealership website that posted the new color names that will be replacing Sebring Orange, Shadow Gray, and Zeus Bronze.
The new 2022 Corvette model year colors were listed as:
GA7 Hypersonic Gray Metallic
G48 Caffeine Brown Metallic
GC5 Amplify Orange Tintcoat
Now we have our first look at one of those new colors thanks to our friend Justin at the YouTube channel Horsepower Obsessed. Justin shows us a photo of what is said to be a paint sample of GC5 Amplify Orange (left) vs the G26 Sebring Orange Metallic (right). After posting this story, we learned the photo originated at the MidEngineCorvetteForum.com and it's not an official leak but someone utilizing the paint codes to create their own samples. We note that the sample on the left has the GC5 RPO code handwritten on the top of it.
The sample photo was taken indoors and the camera's flash appears to have fired, which muted the colors even more. From the video screenshot, I was able to adjust the levels somewhat in Photoshop and I think it gives us a fair representation despite the camera flash. However, that flash may have also revealed the direction the new orange is headed.
GC5 Amplify Orange (left) vs G26 Sebring Orange Metallic (right)

Justin points to the popularity of Rapid Blue which is more of a flatter color when compared to the metallic exteriors offered on the Corvette and thinks the new Amplify Orange could be a brighter, but less metallic orange than Sebring Metallic. We've thrown our support previously behind a "Tangelo Orange" and we might not be that far off based on this sample. As with any Corvette color, the final judgment will come when we can see a fully painted car under the sun.
Lamborghini has offered a lighter version of orange on their various models over the years and just imagine how good that rare Arancio Borealis Pearl would look on the widebody C8 Corvette Z06.
Here's his video and fyi you can see me at 2:22 taking pics of a Rapid Blue 2020 at Carlisle:

Just a reminder, the name Amplify Orange is the internal GM color name and we expect it to be called something different when it's officially revealed. The Corvette Team will most likely be rolling out that information in late April at the National Corvette Museum's annual Bash event.
What are your thoughts on this new shade of Orange for the 2022 Corvette? Let us know in the comments below!

Source:
Horsepower Obsessed / YouTube

Related:
New Details on the C8 Corvette Launch Editions for the U.K.
Here are the Internal GM Names for the New Exterior Colors on the 2022 Corvette
For You Corvette Lovers On Valentine's Day: The One That Got Away