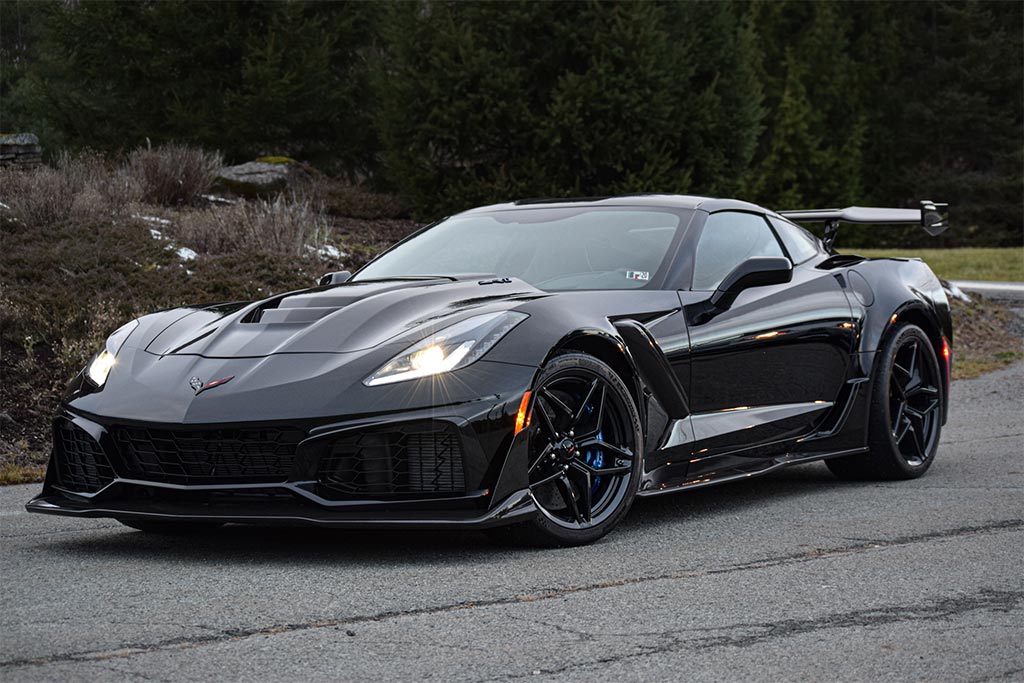 It's not too late to get your hands on the baddest Corvette ever made, but your procrastination is going to cost you.
Pennsylvania's JFK Auto is offering anyone willing to part with $200,000 the chance to take home a triple-black (black exterior, wheels, and interior) 2019 ZR1 with just 65 miles on the clock.

Out of the scant 2,953 C7 ZR1s produced, JFK's example is exceedingly rare! It is one of just 192 ordered with the lower-tier (but lighter) 1ZR equipment group. In fact, the "high wing" ZTK Track Pack seems to be the only optional extra bestowed upon this black beauty by the fine folks of Bowling Green. It features the base seats and a "standard" three-pedal transmission. This keeps it breathing the rarefied air as one of 538 Black ZR1s, one of 2,077 big-wings, and one of 754 coupes with a manual gearbox.

$198,800 might feel a bit rich for a two-year-old car with a $126,000-spec sheet, but in a world where people are happily paying more than double MSRP for a base C8, we'd say this like-new specimen of the ultimate front-engine Corvette is worth every penny! But, if you are like us and didn't get into Bitcoin or out of GameStop at the right time, you can save $70 grand if you are willing to take a chance on a ZR1 that's covered 1000x more ground (that has somehow added another 10k miles since we covered it last year).

Source:
JFK Auto

Related:
[VIDEO] The Fastest Corvettes (and other GM vehicles) at Car and Driver's Lightning Lap
[VIDEO] 2019 Corvette ZR1 Spits Flames In Street Race Against a Dodge Challenger Hellcat
This or That: 2020 Corvette Stingray vs 2019 Corvette ZR1