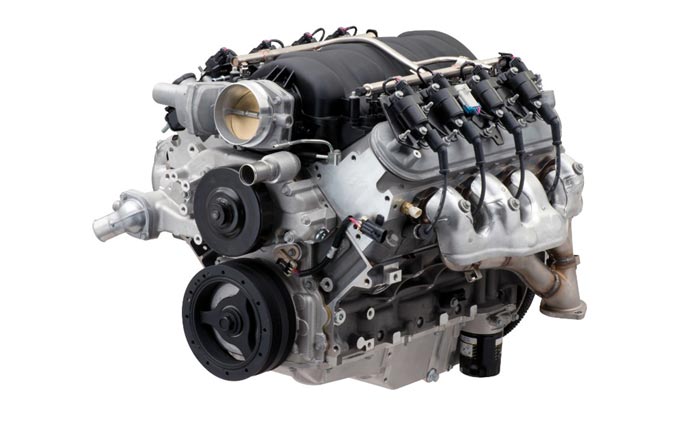 Well, friends, I think I've got a secret admirer at General Motors. I arose on my 31st birthday to the news that my dream engine, an upgraded successor to the legendary LS7, was finally going to be a reality!
That's right, folks, coming to a parts counter near you, under part number 19420191, is an all-new, 427 cubic inch, 570 HP, 540 lb-ft small block called the LS427/570.
To coax an extra 65 horses out of the greatest naturally aspirated mill in their history, GM engineers made multiple meaningful tweaks to the LS7. These started with the tri-Y exhaust manifolds that afforded the 2014-15 Camaro Z/28, the last production application of the largest-ever small block, an extra 11 lb-ft of twist over the C6 Corvette Z06. A new 227/242-degree split duration camshaft with .591/.590 inches of lift is the other power-adding highlight. It was subbed in for the old 211/230, .593/.588 cam and it should sound absolutely menacing.

GM's engine architects also swapped out the LS7's famous dry-sump oiling system for a more traditional wet-sump system that was created by combining the LS3's pump with the pan from the LS1. This should have a two-pronged effect of lowering the engine's price and simplifying installation.
Redline hasn't been shared yet but we see no reason why it would be any lower than its predecessor's still impressive 7,000 RPM mark. Peak power arrives at 6,200 revs and the top of the plateau of torque sits at 4,800. Each example of the LS427/570 comes assembled with the 14-inch Camaro Z/28 168-tooth manual transmission wheel and anyone thinking of adding one of these beasts to their next project should look into part number 19420000, the LS427 engine controller, which is sold separately. Official pricing hasn't been released yet but some early listings on third-party sites have it pegged south of $13,000, undercutting the old LS7's price by more than $2 grand!
So, to recap; more power for fewer dollars! I'm just sorry that I didn't start here soon enough to get my important new admirer to debut this power plant in the C7 Grand Sport, where it belonged, but, as my students are always trying to remind me, late is better than never.

Source:
Chevrolet.com

Related:
Is the 2019 Corvette ZR1's LT5 V8 Engine Really Going to Be a One and Done?
Corvettes on eBay: Rare GM Performance Anniversary ZL1 Crate Motor No. 46 of 200 Produced
Original, Sealed LT5 engine for a 1995 Corvette ZR-1 Offered on the Facebook Marketplace