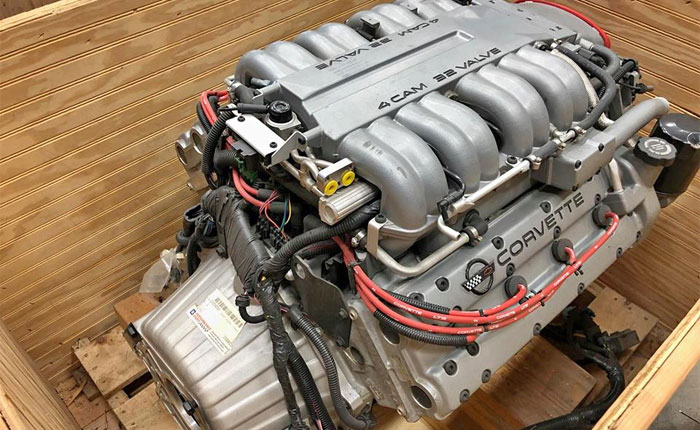 If you are restoring a C4 ZR-1 or just want to have one of the most distinctive Chevy V8 small blocks offered in a Corvette for your next project, then check out this crated LT5 engine being offered for sale on the Facebook Marketplace.
The engine in today's spotlight was sealed up on July 14, 1993, with the packing slip saying it was destined for a 1995 model year Corvette. That means it has the design modifications introduced in 1993 that bumped the horsepower from 375 to 405-hp. This LT5 is as original as it gets down to the shipping crate that still protects it. The sealed engine comes with all the factory accessories including the Power Steering pump, AC compressor, alternator, wiring harness, bell housing, and engine mounts.
We're not sure how this engine escaped its fate of being installed into a ZR-1 at Bowling Green as Chevrolet was locked into a production schedule to produce 448 ZR-1s per year for 1993, 1994 and 1995. But Bowling Green's loss could be your gain!
The LT5s were a modern marvel at the time of production and they featured a 32-valve, 5.7-liter aluminum block with aluminum heads and port fuel injection. The engine was designed by GM's Group Lotus Division, was further developed by GM, and was built under contract by Mercury Marine in Oklahoma.
This LT5 engine was originally offered for sale in the Houston area for $19,500 but it has since been dropped to $15,000. Not a small chunk of change considering that Chevrolet Performance is now offering the new 755-hp LT5 crate engine for $17,915 and even the 650-hp LT4 V8 crate engine is being sold for just over $13,000.
What would you like to see happen with this sealed LT5 crate engine? Let us know in the comments down below!

Source:
Facebook Marketplace

Related:
GM Performance Offering the 755-hp LT5 Crate Engine for $17,915
[VIDEO] Chevrolet Introduces the LT376/535 Crate Engine at SEMA 2016
The Corvette Z06's Supercharged LT4 Powerplant Now Available as a Crate Engine