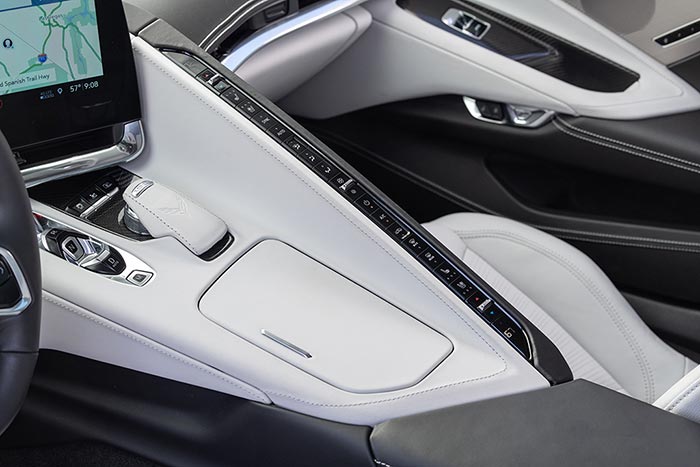 Photo Credit: Chevrolet

Chevrolet's mid-engine masterpiece generally gets great reviews as it's been featured over the last year by the magazines, blogs, and YouTuber reviews. If there is something the reviewers don't like about the car, most likely they will say it's that "polarizing" long wall of HVAC controls in the interior.
Despite winning being named Motor Trend's Car of the Year and the North American Car of the Year, the 2020 Corvette was also named to the list of the "worst car interiors" by Bloomberg News because of that center console.
We fondly refer to the slanted console that holds the C8's heating and air controls as the Great Wall of Buttons and always thought it was one of the unique design features of the model. Now, there are rumors that Chevy may be doing a redesign to modify or remove the Great Wall. We don't know what the ideal solution should be, but we do know that most owners we talk with are perfectly fine with the button's layout and functionality.
As this Corvette Member says in a YouTube video he made about the buttons, most of the criticism is coming from those that don't drive the mid-engine Corvettes on a regular basis, and therefore don't see the genius in center console's layout.
From Hillslam via the Corvette Forum:
I'm going to go over why I think the great wall of buttons in the C8 is in fact perfect. I know over the past year or so some reviewers and casual observers called it out, but if you live with the car you'll come to realize it is actually quite clever. You'll never have to take your eyes off the road and barely have to move your arm, elbow down. Real, actual buttons always trump touchscreens.

Source:
Corvette Forum

Related:
Bloomberg News Puts the 2020 Corvette On Its Worst Interiors of the Year List
[PIC] New C8 Corvette Interior Rendering Removes the Great Wall of Buttons
MotorTrend Says An Interior Redesign Is Coming For The 2023 Corvette