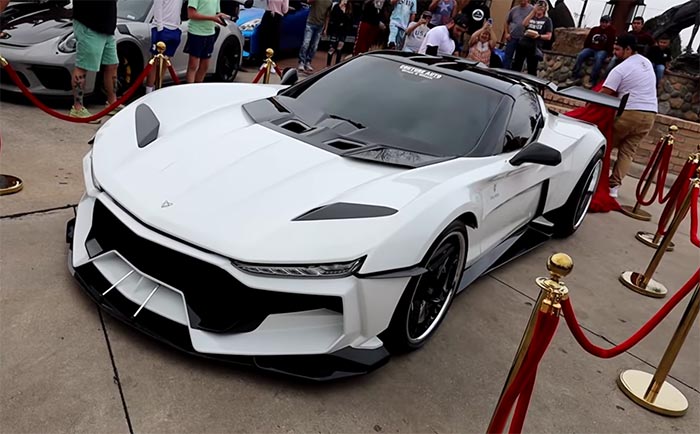 We first came across the Valarra widebody kit back in November of 2019 after it was unveiled at SEMA. With its exaggerated body lines, giant spoiler, jumbo wheels, and huge rear diffusers, it's hard to believe that there's a C6 Corvette lurking under there. It's like a life-sized Hot Wheels car.
A real-world version recently debuted at a car event in Texas. Fast forward to the 5:30 mark in the video below to see a white Valarra widebody C6 in all its glory. The red cover is removed to reveal one of the most unique C6's you'll ever see.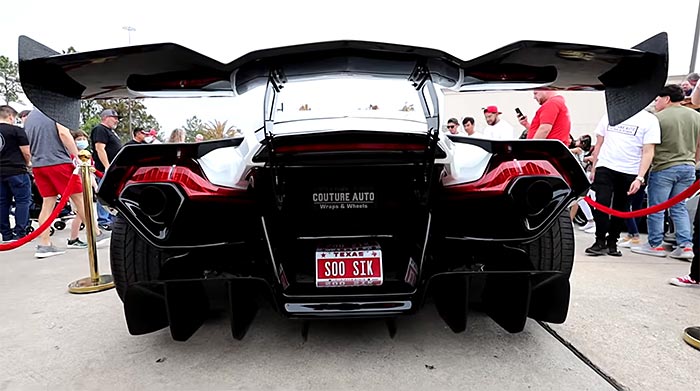 Upfront there's the narrow headlight strips just above the edgy lower valance. The C6's curvaceous fenders have been replaced by taller, edgier versions that loosely resemble a C8 Stingray. The fenders are notably wider than the stock units and wide lower side skirts connect the dots between the front and rear. Out back, the high mounted exhaust, tall wing, and diffuser elicit fighter jet emotions. Inside, the car is largely stock save for some custom white racing seats with purple seat belt harnesses.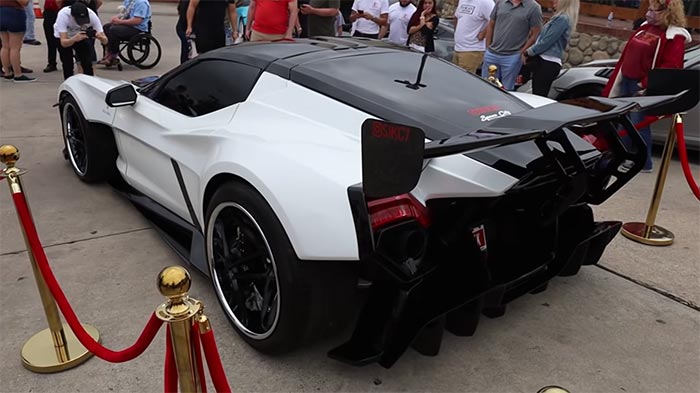 As the video goes on, the owner decides to remove the Targa top before heading out on the road. This is when we learn that the C6 Targa top will not fit in the back of your Valarra-equipped Corvette. If you're looking to go topless, plan to leave that piece at home. We get a brief sampling of the car's exhaust note near the end of the video as the owner fires up his ride up and heads out on the open road.
Like the C8 Pandem widebody kit, the C6 Valarra C6 widebody is bold departure from Chevrolet's stock design. While its looks may not be for everyone, a Valarra-equipped Corvette is going to draw looks everywhere it goes.

Source:
formacar.com and YouTube

Related:
[VIDEO] The Valarra is an Insane C6 Corvette Widebody Kit
[PICS] Pandem Widebody Kit Shows Us the Way to Improve Upon the C8 Corvette
PICS] C3 Corvette Widebody Under Construction By Tuning Shop in Poland