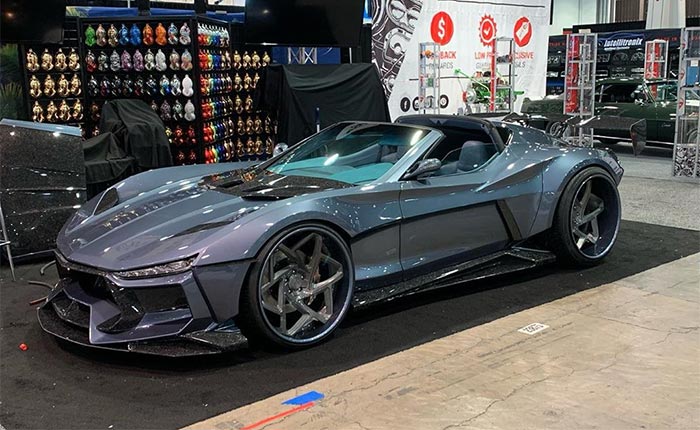 While we're definitely in love with the new mid-engine Corvette, there's a part of us that wishes General Motors had gone even wilder with the design.
Wilder, as in this Valarra kit car that was unveiled at the recent SEMA show.
This unique body kit is the brainchild of a Florida designer named Matthew Mcentegart of Mattao Concepts.
All you have to do is provide a C6 Corvette, and Mattao Concepts will do the rough install at its facility in Florida. You'll still need to do bodywork and paint, however.
"Fabricated with high-quality parts, each kit contains all you need (including interior) for a complete transformation," the company says.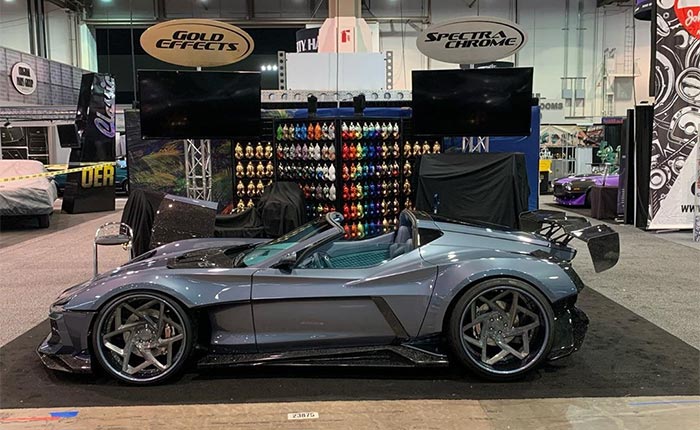 We think the price is reasonable at under $30,000 (before options), including the rough install of the carbon-fiber-reinforced plastic body on your C6, along with a performance wheel and Pirelli P Zero Nero tire installation. Those tires, by the way, are gigantic 24-inchers – 275/25 R24 in the front and 405/25 R24 in the back. Of course, you can always pay more for other options/add-ons – things like Performance, Rim/Tire, Carbon Chop, and more.
Installs are slated to begin in Florida after the first of the year, and the company says it will be taking preorders shortly for the first year of production. Right now, no kits will be sold for home install, and the only installs allowed outside of the Valarra facility will have to be by an approved vendor or shop.
By the way, Mcentegart isn't a Johnny-come-lately to the affordable custom car design business. The Vaydor exotic body kit that was featured as the Joker's car in the Suicide Squad movie is his work.
We don't really know how to describe this car, other than it's "sick," as my 12-year-old son put it when he walked into my office while I was writing this story and was awestruck by the photos of the Valarra.
And as the company's website boasts, "His attention to detail and forward-thinking makes (the Valarra) second to none, letting you stand out no matter where you are."
Owners would definitely be the talk of the town driving a Valarra to the Kroger, huh? No word on how many grocery bags or golf bags will fit in the car, however.

Source:
Valarra and musclecarsandtrucks.com

Related:
[VIDEO] The Ultimate Chevy SEMA Recap Video from Chevrolet Performance
[VIDEO] Chevy Dude Brings Us An In-Depth Walk-Around of the Corvette C8.R at SEMA
[PICS] 2020 Corvette Stingray Shown at Spring Mountain's SEMA Display