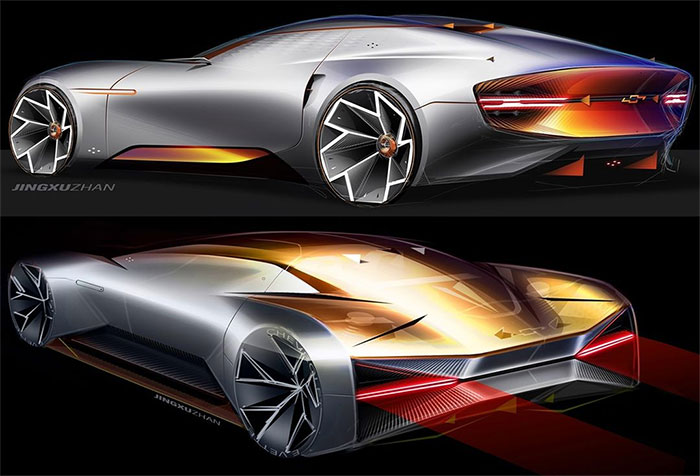 Let your mind wander for a moment and imagine what the C10 or C11 Corvette might look like.
With the eighth generation of the Corvette enjoying unprecedented popularity and praise, hopefully, there will be such a vehicle for future generations of Stingray enthusiasts to enjoy.
But what will it look like?
Well, GM Design posted these two renderings from a person named Jingxu Zhan on its Instagram page.
While the only description provided is "Enjoy this bright pop of color!" and "Bold ideation sketch studies by Jingxu Zhan," we're encouraged that General Motors apparently is encouraging its designers to imagine what a Chevy sports car of the future could appear.

Of course, with technology advancing rapidly, who knows what vehicles will look like in, say, the year 2040? Since there will surely be no gasoline-powered vehicles being produced by GM by then, a vehicle that looks like either one of these sketches would likely be propelled by motors on each wheel powered by electricity or hydrogen or some as-yet unimagined fuel.
By the way, the top sketch immediately made us think of the Oldsmobile Auroras of the 1990s, while the bottom sketch has shades of the 2009 Corvette Stingray Concept running through it.
Let's just hope that General Motors and Corvettes are still around in a couple of decades to make a vehicle like these Zhan renderings possible.

Source:
generalmotorsdesign / Instagram

Related:
[PICS] Too Early for C9 Corvette Renders? Check out this Front-Engine Design from Brazil
[PICS] Digital Artist In the U.K. Creates a C8 Widebody Concept Corvette
[PICS] Competition Carbon's C8RR Widebody Kit Offers a Bold Take on the C8 Corvette