The first 1967 L88 Corvette, and the only one of 20 C2 L88s produced in Tuxedo Black, was sold for $2.5 Million at Mecum's Kissimmee auction. The former Tony DeLorenzo race car was offered at Kissimmee as part of the Mecum Gallery Exposition held at the Florida auction which allowed of inspection and purchase of the car on the auction grounds, but the car didn't actually sell at auction.
The first L88 Corvette was purchased by Tony DeLorenzo at Hanley Dawson Chevrolet in Detroit. He campaigned the Corvette with noted racer Dick Thompson and others, and then the car was sold in 1968. The car then campaigned throughout the 1970s before it was sold to Wayne Walker of Zip Corvette. Walker sent the car down to the Naber Brothers where it was restored back to its factory condition.

The 1967 Corvette is well-known throughout the Corvette community and is well-awarded as well with Bloomington Gold Certification, four Bloomington Special Collection appearances, Bloomington Gold Hall of Fame, multiple NCRS Top Flights, NCRS American Heritage award, and the MCACN Triple Diamond. In 2003 the racer was featured at the Monterey Historic racers where it was united with Tony DeLorenzo for one last race.
Documentation includes the original title, Protect-O-Plate (with an Al Grenning affirmation), and a letter from Tony DeLorenzo confirming ownership of the car.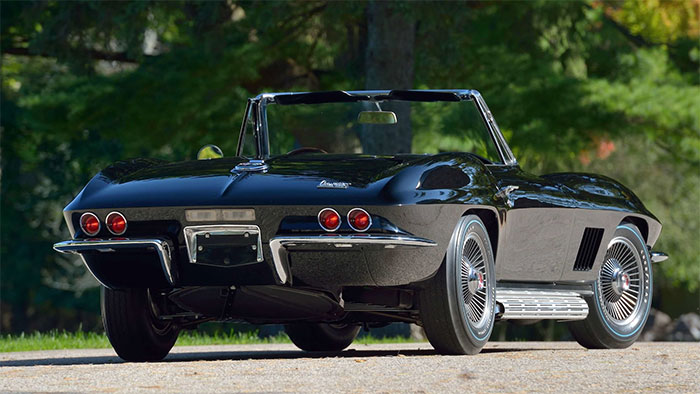 The 1967 Corvette L88 has been a regular on the sales and auction circuit for the last 15 years. In January of 2007 it failed to meet reserve at $1.55 million at RM Arizona. In August of 2010 it sold for $1.25 million at Mecum Monterey. Most recently we saw it being offered privately in late 2018 as a pair with the last 1969 L88 convertible.

So how does the selling price of $2.5 million compare to other recent sales of 1967 L88s? The game had changed for the C2 L88 Corvette back in 2013 when Mecum sold a Maroon L88 Convertible for $3.2 million. Barrett-Jackson would follow that sale up in January 2014 with the world record sale of a Red 1967 L88 Coupe for $3.74 million.

Source:
Mecum Auctions

Related:
[PIC] Throwback Thursday: Tony DeLorenzo and the Glory Days of Corvette Racing
Racing Legend Tony DeLorenzo to be Reunited with His 1967 L88 Corvette
Collector Offering First and Last Corvette L88 Convertibles for Sale