Ladies and gentlemen, at long last, it is CorvetteBlogger's pleasure to present you with This or That, Volume II.
The premise of "ToT" is simple; the staff at CB put forth two desirable and/or unique Corvettes, and our passionate readers (you) get to go through the exciting process of deciding which one you would want to park in your personal garage.
If you happen to be going through your very own Corvette Conundrum right now, drop us a line at [email protected], and we will happily lend a hand; who knows, your next car purchase could be decided by a poll, right here on your favorite site!
Now, we had better get on to this week's matchup before both cars get taken off the market (the original draft of ToT 2 lost one car before we could publish and another before we could come up with a reasonable replacement for the first, hence the delay).
Option 1:
Behind door number one is a 2011 Corvette Z06 Carbon Edition. This little Supersonic Blue number has only traversed 1,971 miles in the decade since initially selling through the world's largest Corvette dealership (and site sponsor!), Kerbeck Chevrolet. This mint condition 7.0L monster has lived its entire life under the watchful eye of a private collector, and it comes complete with a laminated window sticker, both key fobs, every manual, book, and tag that you can think of, the in-box battery tender, and the "Carbon" box that contains all of the original un-applied commemorative stickers.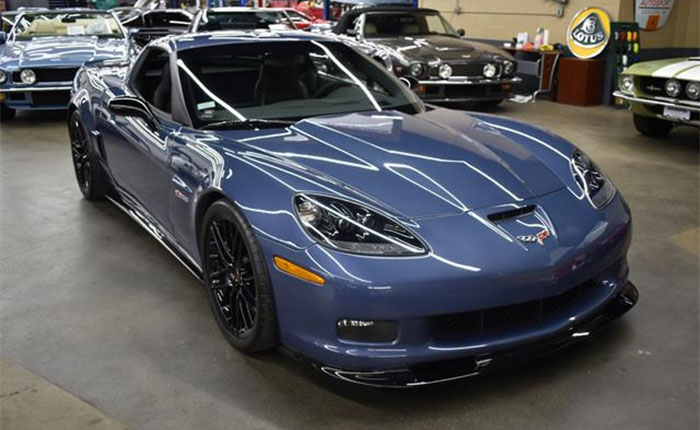 Option 2:
Opening door number two reveals a 644 mile 2012 Centennial Edition ZR1. Like all Centennial Corvettes, this ZR1 wears Carbon Flash Metallic paint, the only shade of black available in 2012. Unlike many of its brethren, this example was optioned with RPO PDE, the performance package on top of the performance package, netting it stickier tires, lighter wheels, new suspension tuning, and lightly-tweaked aero. This example spent the majority of its days on display in South Dakota before ending up in the Lone Star state with a for sale sign in its window.

Decision Points:
As these two 'Vettes belong to the same generation, their looks and interior are basically a wash. Exterior differences boil down to paint, badges, cup vs. 20-spoke wheels, a window in the hood, and unique side "gills." Inside, it is more of the same. Both cars feature black leather with faux suede on the steering wheel, manual shifter, seat inserts, and armrests, accented by either red or blue stitching. Trivial details like the steering wheel emblem, the print on the door-sill plates, and the 2012 car's slightly reworked seats (built on the same frame as the old seats) and steering wheel could also make a difference to some conflicted buyers.
Rarity: Out of the 404 ZR1s built-in 2012, just over half (206) were outfitted with the Centennial Edition package. They were joined by 1,995 of their "lesser" siblings in the Carbon Flash club. The PDE performance package puts today's second option in even rarer air as one of only 184 ZR1's so equipped in 2012 (and another 191 in the second and final year of its availability, in 2013).
The 2011 Z06 is one of 166 blue cars belonging to a larger family of 252 special editions within two even larger groupings of 540 Z07s and 904 base Zs. Like its competitor, the Carbon represents the first time that an Ultimate Performance Package was offered on a respective model. This specimen will be joined at reunions by an additional 200 Z07-equipped C6s spread out between '12 and '13 in increments of 117 and 83.
What all of this means is that rarity in this battle of hi-po C6s is mostly a matter of perspective. Overall, there were far more Z06s built than ZR1s between 2006 and 2013, but as special editions, a Carbon is much rarer than a Centennial car, unless, of course, you are only counting supercharged examples. And, if your head isn't spinning yet, looking at these two from a mechanical level, the PDE package is more difficult to track down than the Z07, but with subsequent incarnations of Z06 and ZR1 both sharing the C6 ZR's 6.2L displacement paired with a supercharger, many people appreciate the C6 Z06 as the last big-bore Corvette (and the only one to displace over 376 cubic inches between 1975 and today).

Speed:
Take a deep breath because this section is much more straightforward than the last. With 638 horses vs. 505, the ZR1 takes the cake in nearly every meaningful performance statistic. 0-60 favors the 2012 ZR1 3.3 seconds to 3.7; it also crosses the quarter-mile in 11.1 seconds at a blistering 130 MPH vs. the Z06's 11.8 seconds and 123.4 mph. The C6 ZR1 also holds the title of first 200-mph Corvette with a top-end of 205 while the Z06 falls just short at 198. The Z06 does hold a 100-pound weight advantage that manifests itself in the braking statistics, making these two sophisticated brutes relatively close dance partners on a road course with the ZR1 and its sticker rubber (which became standard on Z07s in '12) holding a slight lead. Price: The 2012 ZR1 is currently listed at $89,995, and the Z06 is asking $89,500; we have a dead heat! With an original MSRP of $100,095, the Z06 Carbon has retained more of its value than the Centennial that stickered in excess of $130,000. We might argue that both prices are a bit steep in the current market, but there aren't many alternatives for buyers to turn to, so it might be fair.

The Bloggers Weigh In:
Alex: I hold both of these cars near and dear to my heart and believe this is one of the most challenging possible head to head Corvette matchups. If the Carbon was one of the 85 Inferno Orange examples, that would be my choice in a heartbeat. Supersonic Blue is a lovely color too, but going against the Centennial ZR1 and all of its performance advantages and metal-flake rich black paint, I don't think even my love for the LS7 can sway me towards the 2011. I'm going with the ZR1 this time around.
Keith: Like Alex, I think both of these rides are truly special and both would have places in my garage if money weren't an object. However, If I had just to choose from one of these cars, the Centennial Edition ZR1 would be the car to bring home. Just nine years ago the 2012 Corvette ZR1 with the PDE package represented the pinnacle of Corvette performance, and while the later generation C7 Z06s and ZR1 would come along, the C6 ZR1 with its 638-hp supercharged V8 may be slightly dated, but it's still no slouch. The Centennial Edition also adds another special element to the car as it's the only Corvette to ever have a Black Metallic exterior and special Black cross-flags emblems. And then there's the iconic "100 Years" graphic affixed to the B-Pillar that featured the bad-ass silhouette of Louis Chevrolet turning that big steering wheel on his Frontenac racing machine. There's a lot to love there so yes, I'd definitely be driving home the ZR1.
Your turn, Corvette Nation! Which of these 'Vettes "floats your boat?"
Loading ...

Source:
Autosport Designs and novakmotorcars.com

Related:
This or That: Which Supercharged Corvette for Sale Would You Choose?
Corvettes for Sale: Rare 2009 Corvette Black GT1 Coupe with VIN #010
Corvettes for Sale: 2011 Corvette Z06 Carbon Edition with 7 Original Miles