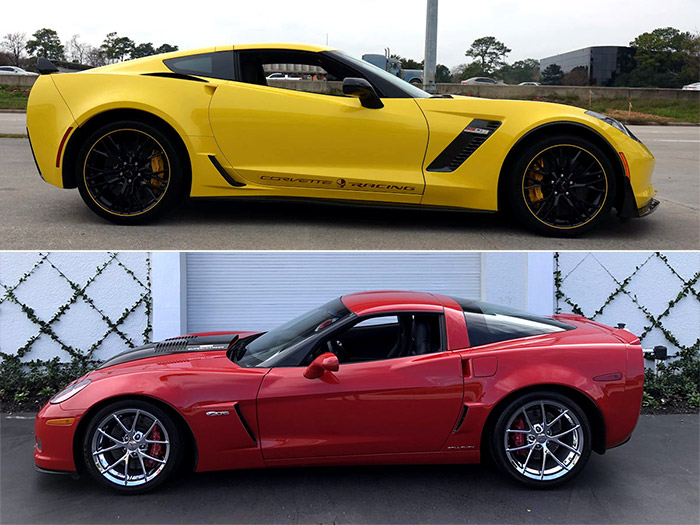 For enthusiasts not named Rick Hendrick, choosing the specific Corvette to spend your hard-earned money on is one of the most nerve-wracking elements of the entire hobby. One could go mad thinking about the possibilities. Eight generations, 67 years of production, a myriad of special editions, tuner customs, and nearly unlimited combinations of colors and options; it is almost too much for one brain to fathom!
CorvetteBlogger and our passionate and deeply knowledgeable readers (all million+ of them each month!) would like to lend a helping hand to any members of Corvette Nation that are currently struggling with this very conundrum. If you ever find yourself stuck between a rock (crusher) and a hard (top convertible) place on your next purchase, drop us a line at CorvetteQuestions at Gmail dot com (pro tip: that address is written out to avoid would-be spammers, if you would like to send us a message, be sure to type "@" and "." instead of "at" and "dot") and we will happily give you our two cents, open up our entire comment section, and dedicate a poll to help spread the weight of your substantial burden.
Ladies and Gentlemen, Welcome to This or That, Volume I
For the inaugural edition of This or That, we will be looking at a rare pair of highly desirable supercharged Corvettes in the $70,000 price range.
Option 1:
In the Torch Red corner, we have a C6 Corvette Z06 2LZ that has only amassed 2,682 miles since it came off the assembly line in 2009. As tantalizing as that last sentence is, somehow, this one gets even juicer! Tell-tale signs of something extraordinary can be seen from every angle. Approach this beast from the front, and you'll notice the distinctive carbon fiber hood bulge, and around back is the provocative "Double-D" exhaust. That's right, friends, it's a Callaway Z06! Lift the custom bubble hood, and you will be greeted by a waffled chrome supercharger that force-feeds the Z's legendary 7.0-liter V8 all the way to 652 horsepower, besting even the mighty C6 ZR1 by 14 ponies! Other highlights include chrome "Spyder" wheels and stitched Callaway floormats.

Option 2:
In the Corvette Racing Yellow trunks, we have the 2016 Corvette Z06 C7.R Edition that was limited to 500 units. The C7.R was the first special edition C7 Z06, and it proved to be one of the best. They came fully loaded with the top-of-the-line 3LZ equipment group, CorvetteBlogger favorite Z07 ultimate performance package, exposed carbon fiber everywhere that it could possibly be placed, and a stunning yellow and black motif that is a direct homage to the final front-engine iteration of one of the most successful factory race programs of the 21st century. This example wears VIN 190 and is being offered by Corvette World Houston. It has also been treated to a GM Performance Intake, giving it a factory-approved power rating of 661 HP, earning it the all-important crown of "most powerful car in this comparison," or MPCC, if you will.

Decision Points:
Eye of the Beholder: There are several places where these two SuperVettes contrast with one another, respectfully making each one an easy choice for certain factions within the broader Corvette community. We already mentioned the touchy subject of chrome wheels on the Callaway SC652. The C7 counters with 20-spoke black units highlighted by a yellow rim (a C7.R calling card).
In the transmission department, the newer car was optioned with the divisive but quick-shifting 8-speed automatic while its elder, like all C6s that wear a Z badge, sports a six-speed manual. We would also like to point out that Callaway traditionally upgrades the modern 'Vettes that they work on with an extremely precise bespoke short-throw shifter. Exterior styling will also be a permanent fixture of the eye of the beholder section, but…
Interior: The yellow car with matching yellow stitching takes the cake here.
Rarity: Even though the factory purposefully limited production of the C7.R Edition, it still can't hang with a Callaway Z06 when it comes to scarcity.
Speed: Without lining these cars up, this section is almost too close to call. In a straight line, we would wager that the C7's grippier rubber and automatic gearbox would earn it the holeshot. After that, logic and experience tell us that the Callaway would be the eventual winner. Even with 100+ lbs. of supercharger added in, the C6 should be the significantly lighter vehicle in this hypothetical drag race, and the Stage III aero of the C7 has proven to be quite the burden at high speeds.
Around a road course though, we believe the C6 driver would have a permanent view of the racecar themed C7's non-circular tail lights (if you are on team C6, insert "until it overheats" joke here).
Price: If you are leaning towards the 2009 Callaway Z06 in this generational family spat, the asking price might be the kicker. South Florida's GotSpeed.com has the low-mileage Z, and its blown 427 listed at $69,975, undercutting the newer (read: much easier to finance!) Z07 by $6,020! That could buy you a lot of replacements for the rear tires that you would be tempted to vaporize every time you slipped behind the Cobalt parts-bin steering wheel!
The Bloggers Weigh In:
Alex: You can't go wrong with either car here, but both of these beauties make me second guess. I once got the opportunity to put a few miles on a Centennial Edition Grand Sport with a similar Callaway package to the C6 in this head to head (the SC606). It was a phenomenal vehicle to experience, with two aspects really standing out above the excellent whole. First was the aforementioned shifter, and the other is the view out of the windshield. Next to the head-up display on C6 Callaways, you get to watch the belt spin the upper pullies of the supercharger while you drive; it is beyond cool! On the other hand, I am a firm believer in the sanctity of the LS7. I submit that the final Chevrolet V8 to displace more than 400 ci from the factory should be left in its natural (ly aspirated) state and that forcing induction upon it (even if done by absolute professionals for massive gains) is tantamount to doodling biceps on the Mona Lisa.
The C7.R is one of my top 10 (maybe even top 5) all-time Corvette variants… if the specimen in question was endowed with a seven-speed manual by its makers. If the C7 had an M7, it would have been my choice without a second's hesitation, but, as these two currently sit, it is a coin-toss that has me leaning slightly red.
Keith: I think Alex set me up with this match-up. As a member of the Callaway Fanboy Club going back to 1988 Sledgehammer, I recognize the 09 Callaway as a superbly engineered machine and it reminds me of the old '67 Corvette ad of it being a "Wolf in wolf's clothing." The C6 Corvette Z06 was a great platform for Callaway to work their supercharger magic and 652 horsepower in 2009 made the car more powerful than the new ZR1. It's also tastefully outfitted with the great-sounding Double D exhaust. The Callaway badges and the hood bulge are unique to the engineering company signify that this car isn't just an ordinary Corvette Z06.
But as someone who has literally written the book on Corvette Special Editions, the C7 Corvette Z06 C7.R Edition would be an exciting addition to the garage. This specific car is a Corvette Racing Yellow Automatic Coupe of which only 234 were built and it is numbered 190 overall of the 650 cars total. As a Corvette Racing fan, I love the styling of the car with Corvette Racing Yellow stripes on the Black Wheels and, of course, the Jake stinger hood graphic.
The 2009 Callaway has lower miles than the C7.R Edition, and the combination of the supercharged V8 and the venerable 6-speed manual transmission would make this a very fun car to drive. However, I think that in the end, the C7 Z06 would be the better investment if the car was going to be driven less than average so the Yellow Corvette has my vote.
Now we will hand it over to the wise gurus of our commentariat. First, cast your vote below, then let everyone know why your choice is best choice in the feedback area and be sure to take advantage of our new CorvetteQuestions hotline if you come across a buying dilemma of your own (it can be between Corvettes or even Corvette vs. something else, we will try to remain neutral) or if you just want to pick our brains about anything relating to America's sports car!
Loading ...

Source:
GotSpeed.com and corvetteworlddallas.com

Related:
Corvettes for Sale: Rare 2009 Corvette Black GT1 Coupe with VIN #010
Go Retro With This 2010 Karl Kustoms Corvette For Sale On Hemmings
Corvettes for Sale: 1993 Callaway SuperNatural AeroBody Convertible