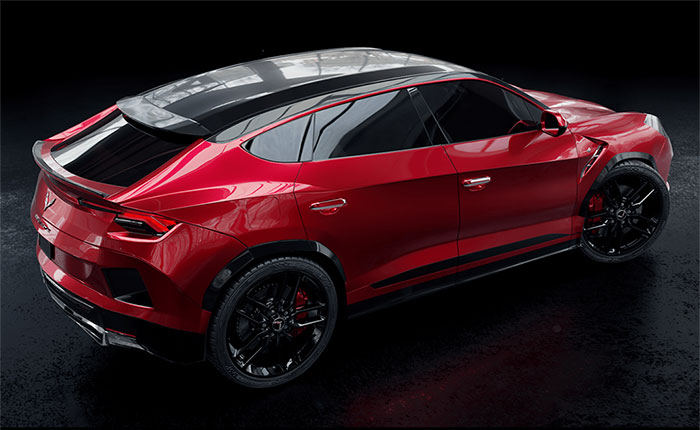 Earlier this week the blogosphere was going crazy over an SUV spotted during GM's Consumer Electronics Show (CES) presentation. That SUV turns out to be a Buick EV concept, but that doesn't mean there isn't the potential for a Corvette-branded SUV in the works.
We've been hearing about GM creating a multi-vehicle line-up around the Corvette for years now and with the major push for electrification, this could be the time for GM to act.
The automaker has pledged $27 billion to build 30 new EVs by 2025, and sources familiar with the plans told Bloomberg that one of those could be a new electric vehicle inspired by the Corvette. The report says that GM has its design team "working on several Corvette-brand concept vehicles to target a wider range of buyers." The goal is to "blend Corvette's reputation for high-performance driving and rakish style with creature comforts such as more interior room and storage."
A Corvette-branded crossover could go on sale as soon as 2025 which fits the timeline for GM's electrification push. This would be a pure battery electric vehicle (BEV) and not a vehicle with a hybrid powertrain that could be coming to the Corvette lineup in 2023 as the rumored E-Ray/Grand Sport model.

GM could be that GM is following in the footsteps of cross-town rival Ford which utilized the heritage of the Mustang to launch the Mustang Mach E. Meanwhile, Porsche has been very successful in launching a number of branded vehicles outside the sports-car platform.
During the CES presentation, GM's VP of Design Mike Simcoe said GM's Ultium battery pack enables the company to make a wide range of models, especially for a broad brand like Chevrolet. "The Ultium platform will allow Chevrolet to further expand its range of electric vehicles to full-size pickup trucks, compact crossovers, and even high-performance vehicles," he said.
A spokesperson for General Motors refused to comment on the story.

Source:
Automotive News

Related:
[VIDEO] An Electric SUV Concept with Corvette-ish Headlights is Shown During GM's CES Presentation
Bob Lutz Thinks the Corvette Brand Needs a Performance SUV
[PICS] Digital Artist Renders a C7 Corvette-Inspired SUV