Now here's something you don't see every day. Generally, when we come across Corvette restomods it's a pristine C2 or C3 body laid down over a custom tube frame and powered by a heavily modded LS motor. Not this time, my friends. What we have here is a 1966 Chevy C10 pickup that's been massaged to fit neatly over a C5 Corvette chassis.
The listing on Hot Rod Hotline tells us that this cool custom started life as a 2001 Corvette. This means it's got the standard 345hp LS1 upfront which is mounted to a 6-speed manual transmission. Power exits via a 3:42 rear end and 18 inch rear tires. It wears 17-inch hoops up front. All 4 tires wrap blacked-out C5 5-spoke wheels. Drilled and slotted rotors with gold calipers help bring this thing to a stop.

Inside we see the remains of a stock C5 interior. The black dash and center console remain largely intact. The original steering wheel and radio are also still present. The seats may or may not be C5-era. We can't really tell due to the seat covers on them. The doors are trimmed up C10 truck units right down to the window cranks and door handles.
The exterior is what sets this Ratvette?, C15? (C5 + C10), Vette-up truck? (you can choose your own name for it) from its peers. The 1966 Chevy C10 body has been channeled, tweaked, and massaged to fit snuggly over the C5 chassis. Up front it's got a custom reverse tilt hood and we're loving the center mount exhaust that now exits through the tailgate. There's also a healthy dose of patina mixed in throughout the body.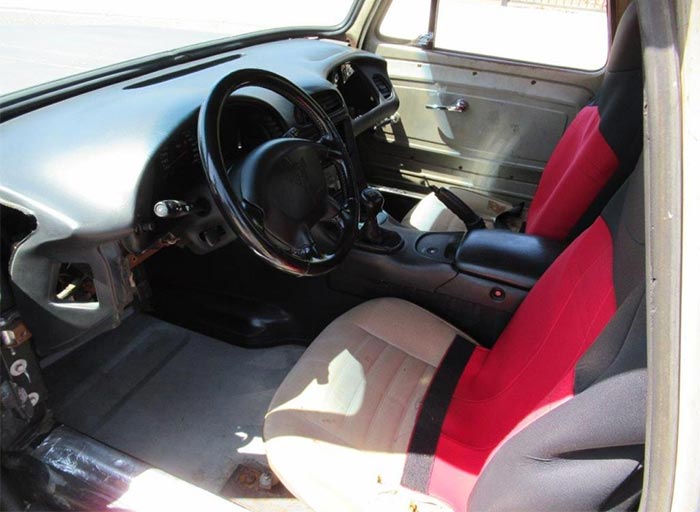 I have to admit I was pretty much over the whole Vette Kart trend not long after it started. Personally, I never understood the concept of removing the Corvette's body and hooning around in it. I think builds like this one should be our next odd-ball modified Corvette genre. It's another great way to have Corvette-ish fun at a reasonable price with something your neighbor definitely doesn't have.
The asking price for this one is just $17,900 which is essentially the same price you'd pay for driver C5 these days. I think I might cruise around in this thing instead if given the choice!

Source:
Hot Rod Hotline

Related:
[VIDEO] Sleeper C2 Corvette Sting Ray Runs in the 10s
[VIDEO] Unholy Engine Swap: C6 Corvette Z06's LS7 V8 Swapped for a 680-hp Toyota 2JZ Straight-Six
Unholy Engine Swap: Chevrolet Spark Powered by Corvette Z06's 7.0 Liter V8 Engine