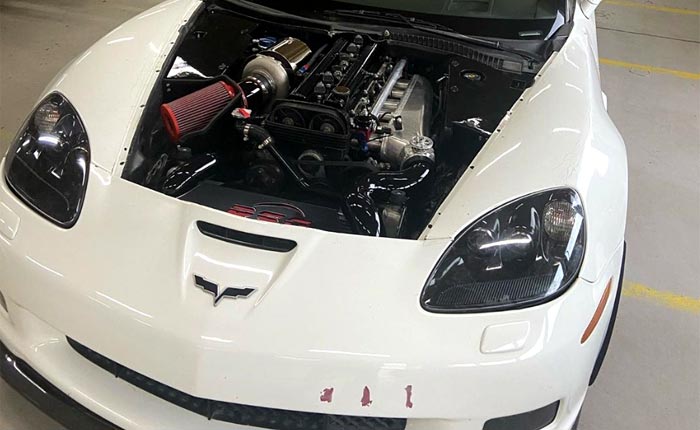 We've told you about some Unholy Engine Swaps in the past, morphed creations like a Geo Tracker with an LS1 Corvette motor or a '54 Corvette with an LS9 ZR1 engine or a Z06 7-liter powerplant crammed into a Chevy Spark.
Here's one we know the purists out there will hate: a Toyota 2JZ inline-six taking the place of a C6 Z06's stock 7.0-liter V8. The 2JZ is usually found in cars like the Lexus GS300 and SC300.
The unorthodox swap was the brainchild of RSG High Performance Center in Ajman, United Arab Emirates, who pulled the rabbit out of their hat for professional BMX rider Abdulla Alhosani.

While we're not particularly crazy about the idea of a six-cylinder Corvette (though we know that's how all this got started in 1953), we do have to admit that the new setup produces much more power than the Z06's stock 505 horsepower. The Toyota engine, upgraded with a Precision 6870 turbocharger and MoTeC M130 ECU, knocks out a whopping 679.2 horsepower and 468 ft-lb of torque on 98 octane fuel and 1.4 bar (20.3psi) of boost.

They were able to keep the factory torque tube and six-speed manual transaxle by employing a custom bellhousing adapter and custom Tilton clutch/flywheel. And it all fit in the Corvette engine bay like it came that way from the Bowling Green factory.
That being said, do you consider this swap a positive step for this Corvette, or a sacrilegious move that should be banned?

Source:
rsg_performance / Instagram

Related:
Unholy Engine Swap: Corvette Z06 Gets a 1.8L from Honda
Unholy Engine Swap: Chevrolet Spark Powered by Corvette Z06's 7.0 Liter V8 Engine
[VIDEO] C3 Corvette Makes 1,100 HP with a Toyota 2JZ Engine