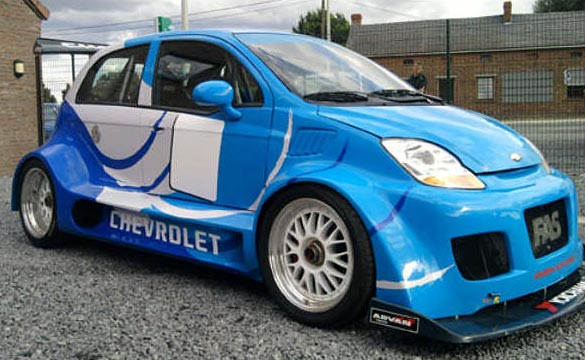 Chevrolet's Spark has ignited a lot of interest so far among American buyers.
Now GM India is trying to see if it can light up a similar explosion of sales for the new creation from Chevy with heavy promotion of the car in all parts of that country.
One reason for the intense interest in the Spark is its silky smooth 4-cylinder motor that delivers 38 miles to the gallon on the road, 32 MPG in the city. GM India is even offering a LPG version of the motor.
But this video isn't concerned with the normal Spark.
Instead it shows us a customized version stuffed with a gigantic 7.0-liter Corvette V8 motor that delivers 550-hp and accelerates from 0 to 100 kmh in only 3.7 seconds and tops out at 260 kmh. That's 161 mph for us non-metric system scholars. Unfortunately, we don't get a true feel for how the Spark performs since it's just shown sandwiched in between two Corvettes that are just creeping through some city streets.
Nevertheless, we can see that the special Spark, built by Fourdin Auto Sport, does sport a menacing body kit with ginormous 18-inch wheels that look even bigger on a Spark, which is the smallest Chevy ever made.
Of course, you can't just add a monstrous motor like this to a Spark and not add a little kindling from a Corvette to make it handle better.
This one includes several parts borrowed from a Corvette, including steering and brake systems since the normal Spark cannot withstand the forces of a 7L engine at full throttle.
This Corvette inspired Chevy Spark was for sale on ebay.de as of last night for the price of 43,000 Euros (or a little over $55,000 for us Americans), however, checking out the auction page this morning shows the sale has been ended.

Source:
IndianAutosBlog.com and ebay.de
Related:
[VIDEO] 1971 Corvette LS9 Engine Swap
Chevy Silverado Gets A Corvette ZR1 Heart Transplant
Unholy Engine Swap: The Geo Tracker Powered by Corvette