It's the end of 2020 and what a year it has been for Corvette enthusiasts. This was supposed to be the year of the 2020 Corvette, and it still was for the most part. Only, no one could have guessed some of the ups-and-downs the model and its customers would go through. But we remain positive as we head into the new year and if all goes well, we will soon be talking about the next reveal in the C8 Corvette model line-up, the 2022 Z06.
With the end of 2020 in mind, we take a look at our Top 10 Corvette blog posts that were voted by our readers based on pageviews. It's somewhat of a mystery how some blog posts take off the way they do, but it's the wide array of interest that the car garners is what makes following the model so much fun. But first here is a quick recap of what happened in 2020 for those of you who were in a Netflix-induced stupor for much of the year:
We started off strong in January with the C8.R Corvette taking to the track for the first time and the first customer ordered 2020 Corvettes rolled off the assembly line. In February, we got our first drive in the 2020 Z51 Coupes at Spring Mountain. Then everything sort of went to hell in March with COVID impacting production and keeping everyone at home. After two months of downtime, the Assembly Plant restarted C8 production at the end of May. The Corvette C8.Rs began their Championship run in July with the 100th IMSA win at Daytona, and production stabilized enough to start the 2nd shift in late August. Despite winning all three IMSA GTLM Championships, Doug Fehan was fired from Corvette Racing. Finally, the Corvette production team would close out the year strong by building 20,368 Corvettes for the model year.
Whew!
Okay, now on the countdown of our Top 10 Corvette Blog Posts for 2020. Taking a page from our Detroit Bureau, we are actually going to sneak an extra one in there at #11 as we like to offer extra value, and frankly, we could all use some DOUBLE BONUS ENTRIES right now!
No. 11 – 2021 Corvette Options and Two New Colors Leaked

The 2021 Corvette model year will feature two new colors, Red Mist and Silver Flare, as well as more customizations including a special Stingray R graphics theme.

No. 10 – The Corvette Assembly Plant To Shut Down Due to Supplier Issues

The Corvette Assembly Plant in Bowling Green will be closed the week of October 12th due to a disruption in the C8 Corvette's supply chain from COVID-19.

No. 9 – GM Issues Stop Sale Order for the 2020 Corvette and Other Vehicles Over Brake Sensor Issue

GM issued an immediate Stop Delivery Order for select Buick, Cadillac and Chevrolet models including the 2020 Corvette over a brake issue.

No. 8 – [VIDEO] C7 Corvette Z06 Does a 360-Degree Spin in the Rain

The owner of a C7 Corvette Z06 got the ride of his life after doing a 360-degree spin while merging on to a highway during a heavy rainstorm.

No. 7 – Hundreds of C7 Corvette Owners Join Class Action Lawsuit Against GM Over Defective Wheels

Hundreds of C7 Corvette Z06 and Grand Sport owners have joined a consolidated class-action lawsuit against GM over defective wheels.

No. 6 – [VIDEO] Florida Man Finds Out His Low Mileage 1982 CE Has 100K More Miles Than Advertised

A Florida man recently found out that the 1982 Corvette CE he purchased from a Tampa dealership had 100,000 miles more than advertised and now he wants his money back.

No. 5 – With GM's Release of a New 5.7-Liter V8, It's Time For a $45,000 Base Model Corvette

With GM's release of three new service-level 5.7-liter crate engines, is now the time to look at creating a $45,000 base Corvette?

No. 4 – [VIDEO] GM Determines the Cause of the Engine Failure in YouTuber's C8 Corvette

Jake from MidwestRide is back with an update on his 2020 Corvette and he now knows from GM what caused his LT2 V8 engine failure that was captured on video.

No. 3 – Sports Fans are Cracking Up Over Michael Jordan Parking his Corvette on ESPN's The Last Dance

With the premiere of ESPN's The Last Dance about Michael Jordan and the Chicago Bulls, people are cracking up at a clip of MJ parking his C5 Corvette.

No. 2 – [ACCIDENT] 2020 Corvette and a Miata Collide on Tail of the Dragon (UPDATE: Miata Driver Responds)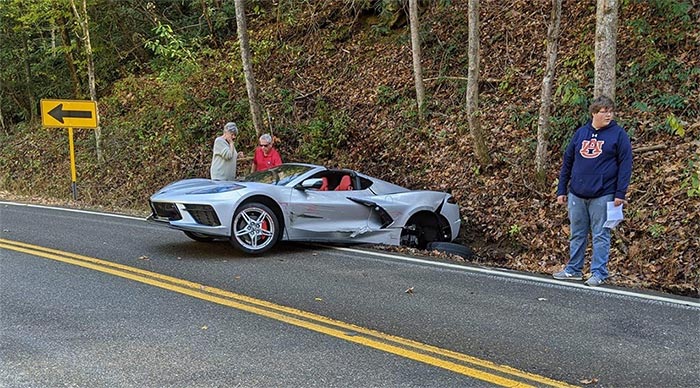 Photos show the aftermath of the collision between a 2020 Corvette Stingray and a Mazda Miata on the Tail of the Dragon.

No. 1 – [PIC] 2020 Corvette Arrives at Dealership with a Two-Tone Boomerang

The owner of this 2020 Corvette got a surprise when he sees his Torch Red Stingray unveiled at his dealership and its wearing a two-tone boomerang.

Thanks again to all our readers and friends out there in the Corvette Nation. We very much appreciate your visits to CorvetteBlogger.com as well as those who are signed up for our daily emails. We believe things are only going to be better in 2021 so stay tuned!

Related:
[PODCAST] CorvetteBlogger Offers Up the Final Headlines of 2020 on the Corvette Today Podcast
[AUDIO] Corvette Today Podcast #3 Features CorvetteBlogger's Keith Cornett
CorvetteBlogger Goes Back to School for the Great American Teach-In