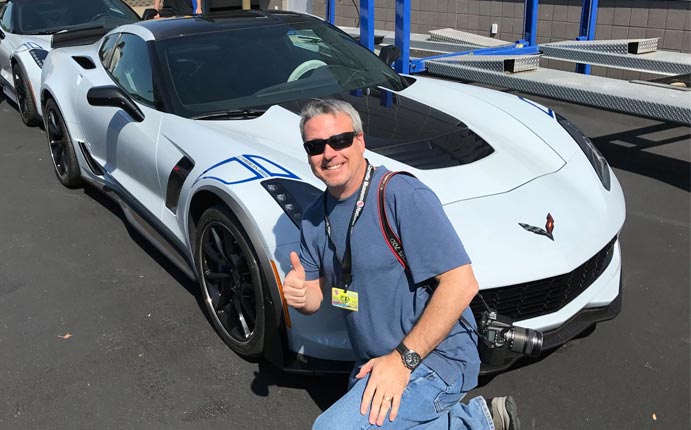 When our friend Steve Garrett of the CORVETTE TODAY podcast asked me if I would be a guest on the show a couple weeks back, of course I said yes! Appearing on the podcast would be a great way to promote the website as well as introduce some of our newest readers as to who I am and how CorvetteBlogger became what it is.
I'm not one for doing a lot of self-congratulatory media because I never set out to the make CorvetteBlogger.com about me. This website and how it's operated is 100% focused on the car. As you listen to my story, hopefully, you'll take away the fact that I am a true believer of the Corvette brand and always will be.

In the podcast, I tell my Corvette Story which starts in June 1966 with the purchase of a 1966 Corvette by my father, Phillip Cornett, and how that ultimately lead to the creation of a popular news and entertainment destination for the Chevrolet Corvette. I also have the opportunity to talk about my best-selling automotive book, Corvette Special Editions that came out in 2018. You can learn more of that at CorvetteSpecialEditions.com.
Steve also asks about the C8 Corvette and the current state of affairs when it comes to getting everything restarted following the coronavirus shutdown.
Listen to the CORVETTE TODAY Podcast Episode #3 with CorvetteBlogger's Keith Cornett:
Steve Garrett sits down with Keith Cornett, Founder of CorvetteBlogger.com. CorvetteBlogger is the #1 daily newsletter about Corvette in the industry! Hear about Keith's "leap of faith" in starting CorvetteBlogger. He also shares his insight about the new C8 Corvette, what is going on with it, and what it will take to start production back up. Also find out about Keith's book on Special Edition Corvettes and how to purchase a book.

Sign up to CORVETTE TODAY and be notified when new episodes are available. You can also check out the CORVETTE TODAY Facebook Group for discussions of the various episodes.
Steve's guest on the CORVETTE TODAY podcast next week is artist Dana Forrester.
As a parting shot, here's a photo of myself (L) with Steve Garrett (C) and Mike Furman (R) from the infamous 2018 "Bonzai Run for the ZR1" that saw around 15 Corvette friends fly from parts of the USA and Canada to spend the day together with the 2019 Corvette ZR1 at the LA Auto Show:

Source:
Corvette Today Podcast

Related:
[AUDIO] Corvette Today Podcast #2 Features Corvette Seller Mike Furman
[AUDIO] Introducing the 1st Episode of the Corvette Today Podcast
[AUDIO] Doug Fehan Featured in Podcast with IMSA Radio