"Let the buyer beware" never rang more true than in the case of this Cape Coral, Florida man who finally landed his dream car: a classic C3 Corvette.
"It's America's car," he says. "Everybody loves a Corvette."
But the dream has quickly turned into a nightmare as Ray Kijak alleges that a well-known Tampa, Florida dealer drastically mispresented his 1982 Corvette Collector Edition coupe in web advertising.
When the car arrived from Gateway Classic Cars – a prominent fixture for years on internet searches for classic vehicles of all makes, Kijak says he had a bad feeling about his new pride and joy immediately. "This is not a 44,000-mile car, there's something wrong with this," he told WINK-TV News out of Fort Myers, Florida.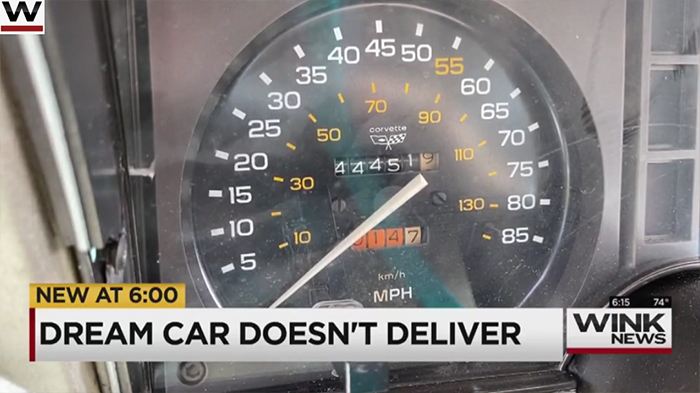 Indeed, further research through vehicle reports revealed that the odometer on the Corvette had actually rolled over once, so the actual mileage was more like 144,000 – something that Kijak later learned from a vehicle report.
Kijak says the dealership had advertised the car as having 44,417 miles, describing it as "turn-key ready," and actually confirmed the lower number on its signed odometer statement.
Gateway Classic Cars refused an interview with WINK News but did say they're working on a resolution.

Kijak says when he found out about the false mileage, he asked the dealership to refund the $15,000 he had paid for the car. "The man just laughed at me and hung up. He says, 'You'll never get a dime from me!'" Kijak told WINK.
That remains to be seen because the case is being investigated by the Florida attorney general's office and Florida Highway Safety and Motor Vehicles after Kijak filed complaints with both agencies.
Kijak told WINK that FLHSMV has told Gateway to refund the money.
This case can be a lesson to all of us who have ever considered buying a classic car online, without seeing the vehicle in person. Do your homework first, be sure to ask for or purchase a Carfax or AutoCheck report on the car, and pay a few bucks to have a competent mechanic check out the car, too.

Source:
winknews.com

Related:
High Mileage! 1987 Corvette Convertible on AutoTrader Has 330,000+ Miles on the Odometer
[VIDEO] High Mileage C5 Corvette Now Has 709,972 Miles on Odometer
Buying a 2020 Corvette as an Investment? Sell It Now for the Best Return!