Photo Credit: Chevrolet

The National Corvette Museum has provided the official production statistics for the 2020 Corvette model year which provides us with a great opportunity to see how owners optioned their mid-engine Corvettes.
Production of the model year is expected to continue another couple of weeks before concluding on or by December 7th. As the final orders are locked in, Chevrolet's official count for the model year will be 20,368. This total does include those pre-production saleable units that were built before customer orders began in February.
The breakdown of the 2020 models was 82.4% Coupe (16,787) and 17.6% Convertible (3,581) and the Z51 Performance Package accounted for 76% (15,476) of all Corvettes produced.
The 3LT package was the most popular which always is the case during the initial new model rollouts. A total of 46.8% of buyers went with the 3LT across both models with 39.1% choosing the 2LT and only 14.4% selecting the base 1LT trim package.
The exterior colors ranked by popularity are:
Torch Red – 5,137 (25%)
Arctic White – 3,098 (15%)
Black – 2,383 (11.7%)
Sebring Orange – 1,377 (6.8%)
Elkhart Lake Blue – 1,369 (6.7%)
Rapid Blue – 1,243 (6%)
Ceramic Matrix Gray – 1,216(5.97%)
Blade Silver – 1,130 (5.55%)
Shadow Gray – 1,111(5.45%)
Long Beach Red – 1,068 (5.25%)
Accelerate Yellow – 688 (3.38%)
Zeus Bronze – 548 (2.69%)
The NCM also provided a chart showing how the various models were outfitted with exterior and interior color totals and combinations. From that, we can see some rare combinations. For example, only one Corvette was painted in Accelerate Yellow and had a two-tone blue interior. Two Torch Red cars selected the two-tone Blue as well and two Elkhart Lake Blue and three Rapid Blue cars featured the Morello interior.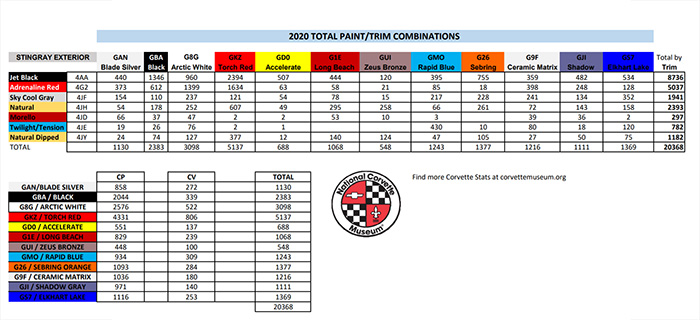 Some other interesting options include the E60 Front Lift which was selected by 58% of owners (11,899), FE4 Magnetic Ride was selected by 54% (10,991), and the GT2 seats were the most popular choice at 12,548 (61.6%).
The most popular wheels were the Carbon Flash Open-Spoke wheels with 41.7% of buyers selecting the black version vs 36.9% going with the Bright Silver versions. The Black Trident wheels were optioned by 2,788 buyers (13.7%) while 2,420 selected the Spectra-Gray Trident wheels (11.9%) and 1,924 buyers selected the Sterling Silver Trident Wheels (9.4%).
To view or download the 2020 model year stats, click here.

Source:
National Corvette Museum

Related:
2020 Corvette Convertible Production Officially Kicks Off Today
[VIDEO] The First Production 2020 Corvettes Have Left the Assembly Plant!
[PIC] Chevrolet Celebrates the Start of Regular Production for the 2020 Corvette Stingray