By now, we've seen lots of reviews of the new mid-engine Corvette, but we have to say the latest from a YouTuber whose channel is called "Sarah-n-Tuned" has to be one of the best.
Her dry humor, along with that of her female passenger, definitely adds a different feel to this assessment of the 2020 Corvette Z51 Rapid Blue convertible loaned to her by General Motors.
For example, in her walkaround of the car, she notes that the side mirrors stick way out, prompting her to say "big ears are cute."
The car has an "adorable" Stingray emblem on the top of the trunk lid, she says.

There's an LED light and a 12v power outlet "so your gymnast that lives in the frunk can charge their smartphone or light a cigarette," she quips.
The row of buttons on the center console, she says, "looks like a cluster-f***" but it's "actually intelligent the way they did this."
She notes that the sun visors sound like they're made out of wood when you flip them up and then points to the warning label that, she says, reads "Advertisement de Cousin Goofball 'cause all cars need that label nowadays."

One thing she "absolutely" loves about the car is the rearview mirror, calling the quality of the system "astonishing."
"I swear to you when I was driving this thing," she says, "I was watching people parked behind me picking their nose, talking on their cell phone, the smallest little details. You can definitely identify people in their cars behind you while they're driving. I know that, that's George or Gertrude … senior citizens driving behind me apparently."
Two criticisms of the interior are the buttons on the steering wheel to control the audio system "feel cheap, like the one thing in here that feels cheap," and the lack of space in the passenger compartment to store stuff – "pretty much have to rely on your frunk and trunk if you want to put anything in the car." P>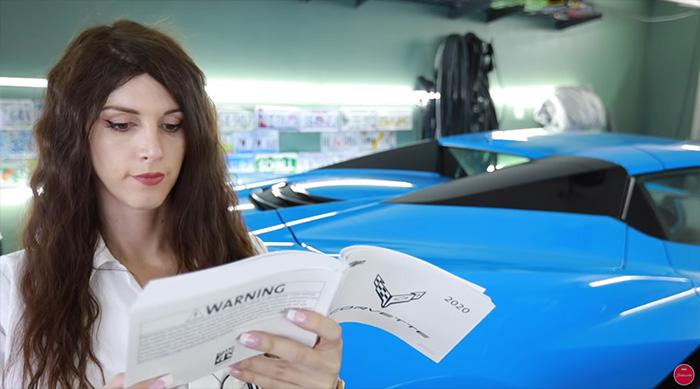 Sarah notes that GM specifically sent her an email before the review asking her not to take the Stingray on the track or do any hefty performance driving. "What the f*** else is a Corvette for?" she protests.
But don't miss her action on the road with her friend in the passenger seat, especially as they test the Corvette's acceleration and braking capabilities. "Dude, my neck!" "My face! My face!" among others that will crack you up. P>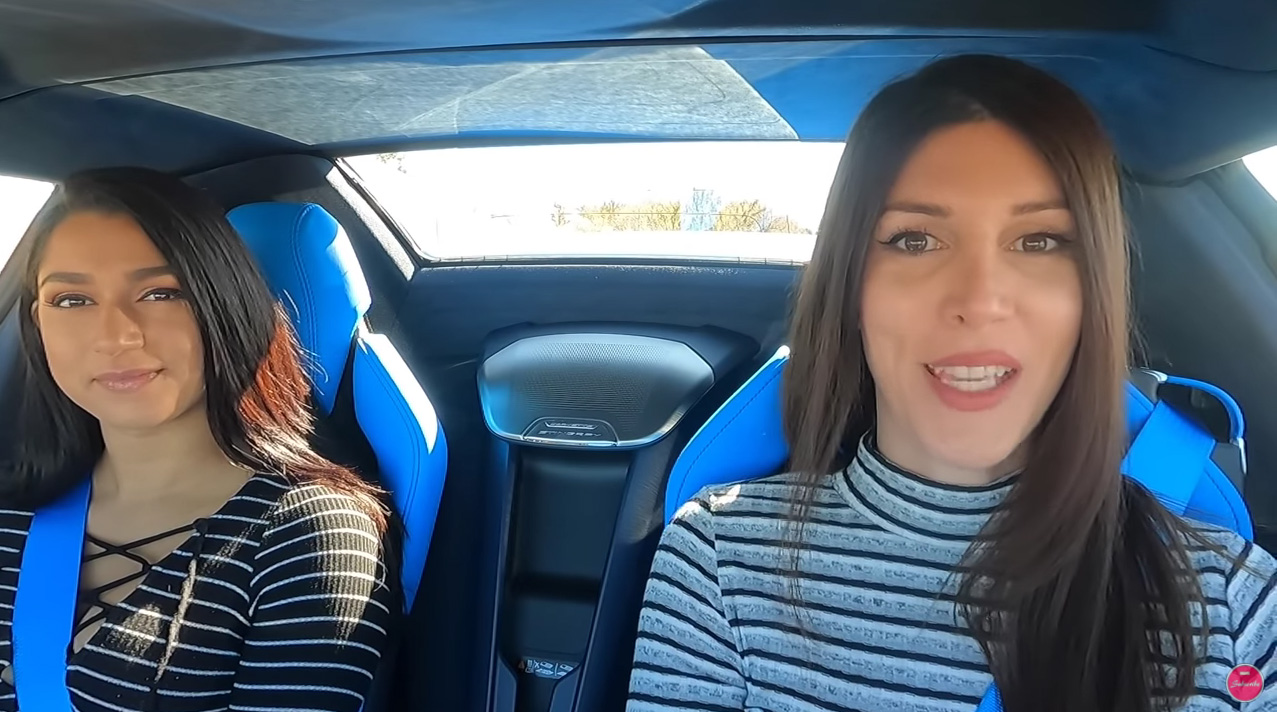 Sarah gives the new C8 "a ton of credit" for its daily driver ability. "You would think a car that looks like this, especially even just sitting in it, that it wouldn't be comfortable, but it is," she says. "In touring mode, this thing is super plush and comfy. I'm 5-11 and wearing heels right now, and I still am not cramped in here. It is a comfortable car."
Finally, Sarah rates the car in several categories, using some rather unique methods.
For example, on her Bean Score, which is "based on the feeling you get behind your belly button when you give it the beans," the Stingray earns 3.7 Beans out of 5. "This thing is seriously quick from a dig, and it's fast from a roll. However, I have to say at times when I was getting on it, I kinda felt like, yeah, this thing could use a little more power. But when you launch this car, it means business." P>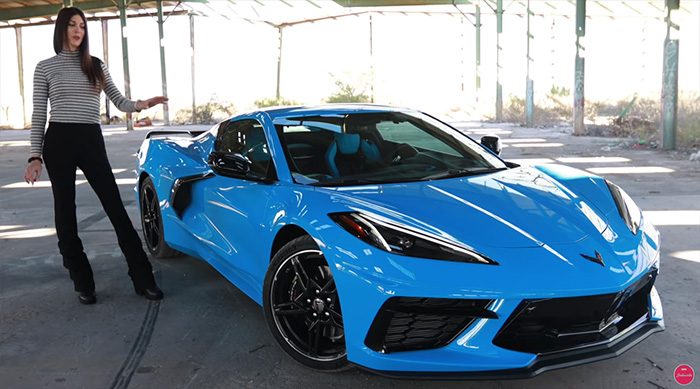 On the Squid Score, "a ridiculous assessment" of the vehicle's handling, the Corvette earns 3.4 Squids out of 5.
On the Cookie Score, based on what you get for what you spend, an assessment of value, in other words, she gives the Corvette a solid 5 Cookies, even with the 3LT and Z51 packages.
"Honestly, I don't care what trim spec you get this car in, I think it is an astonishing value," she raves. "I am thoroughly impressed with the overall quality of this car. The question is, though, is this thing going to drastically depreciate in value like previous generations once it's a couple of years old? That we'll have to wait and see."

Finally, on the Penguin Score, "my assessment of how much I personally like a car," Sarah gives the C8 another 5 Penguins!
Based on comments from regular viewers, it's apparently a rare thing for Sarah to give any vehicle a pair of 5's, so kudos to the Corvette.
"I'm so thoroughly impressed with this car," she concludes. "I can't say that enough. I absolutely love the color in and out on this thing. It's a fantastic car – I'll just leave it at that."

Source:
Sarah-n-Tuned / YouTube

Related:
[VIDEO] Randy Pobst Hot Laps the C8 Corvette at Laguna Seca for MotorTrend
[VIDEO] 2020 Corvette Named Best Car by Fox News Auto Reviewer
[VIDEO] Drive 615 Compares the 2020 C8 Corvette to the C7 Z06