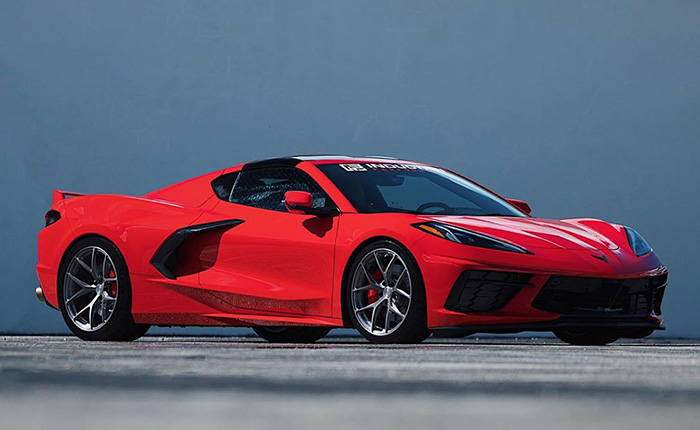 Happy hump day folks, or should I say happy Wheels Wednesday!
BC Forged has another offering for us this week as we take a look at these forged monoblock aftermarket wheels on a Torch Red 2020 Corvette Stingray. We found these photos of the Stingray on their instagram account showing of their RZ21 wheels in Brushed Gray.
The wheels are made to your exact specifications and we are not just talking about colors, which by the way are many. As you can see on the Stingray, it's showing deep concave while our example rims below are mostly a flat profile. There are multiple levels of concavity available. As for the colors, buyers can choose between solid metallic finishes or translucent. The website shows 23 different finishes but more may be available as we don't see our example color Brushed Gray on the chart.

We don't have any info on sizing, but our guess is that the Z51 Coupe is running on 20/21 staggered wheels and we wouldn't be surprised if the car had been lowered because of the lack of wheel gap and overall stance is outstanding in our opinion. BC Forged offers the RZ21 wheels sized from 17″ all the way to 23″. The website shows a set of 20″ wheels starting at $3,650 while a set of 21″ wheels start at $3,900.

So what are your thoughts on these custom wheels? I like them because they are different and offer the Stingray a little more character over the stock rims, but I'm not exactly blown away either. Let us know your feelings in the comments below!

Source:
bcforgedna / Instagram

Related:
[PICS] This Accelerate Yellow 2020 Corvette Shines With Signature Performance Wheels
[PICS] Zeus Bronze 2020 Corvette with Forgeline's AL301 in Hampton Gold
[PICS] 2020 Corvette Wearing Vertini RFS1.9 Custom Wheels Finished in Brushed Dual Gunmetal