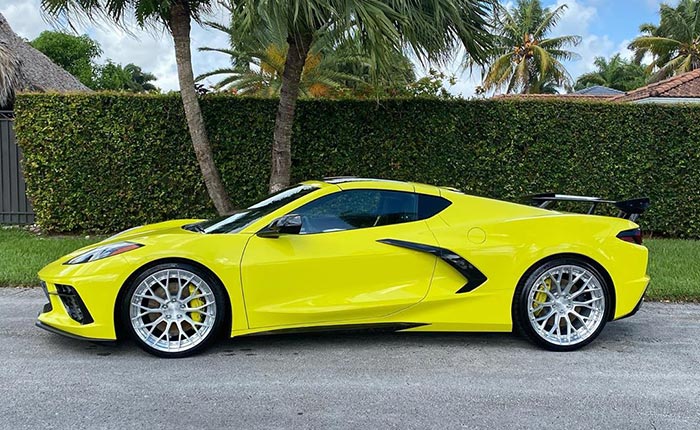 You might want to break out your shades for today's Wheels Wednesday as we feature the very bright Accelerate Yellow 2020 Corvette.
The 2020 Corvette is owned by Rudy Gonzalez and these photos were shared on his @vettepro account on Instagram. If you're thinking that the Accelerate Yellow requires Black wheels, his car was originally shipped with the Carbon Flash Open Spoke Wheels. However, we think the attitude of the car completely changed thanks to the custom forged wheels from Signature Performance Wheels.
Photo Credit: Signature Performance Wheels

Rudy's Corvette features the custom made-to-order SV305S which very much reminds us of the design of the C7 Z06's aluminum wheels, but Signature takes these 2-piece forged wheels to the next level with a concave center design and 28 different finishes to give you the look your Corvette deserves.
The Stingray runs on a staggered setup with the SV305S 20×9.5 for the fronts and the 21×12 deep rear concaves for the rears. These wheels aren't cheap and run from $6,000-$7,500 per set depending on the wheel size.

Here you can see Rudy's Stingray with the original stock Carbon Flash Open Spoke Wheels:

So thoughts on the SV305S on this Stingray? Let us know in the comments below!

Source:
signature_domestic / Instagram

Related:
[PICS] Zeus Bronze 2020 Corvette with Forgeline's AL301 in Hampton Gold
[PICS] 2020 Corvette Wearing Vertini RFS1.9 Custom Wheels Finished in Brushed Dual Gunmetal
[PICS] HRE Wheels Offers Near Factory Look with FlowForm FF11 Wheels in Liquid Metal