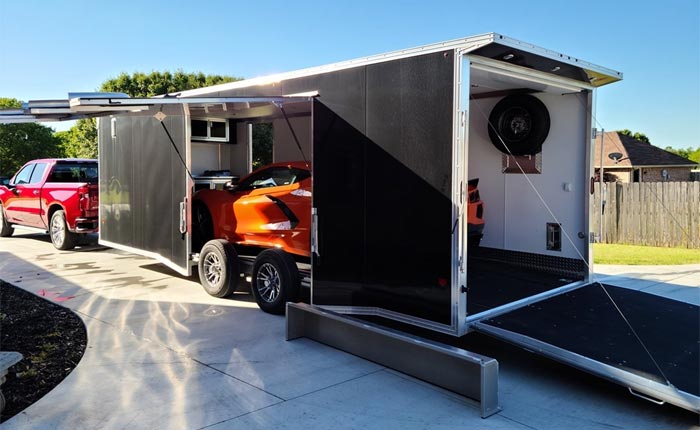 Photo Credit: Jeremy Welborn

The 2020 Corvette's change of weight distribution makes trailering the C8 different than previous model years. With the weight of the engine now over the rear axles, the C8 Corvette moved from a nearly perfect 50/50 weight distribution to that of 40/60. Those that trailer their vehicles know that the more weight you have at the rear of the trailer may subject it to sway when traveling down the highway, so having a balanced trailer before heading down the road is very important.
CorvetteBlogger contributor Jeremy Welborn recently trailered his 2020 Corvette for the first time as he headed from his home in Oklahoma down to Dallas, Texas where his Sebring Orange Stingray would be getting the XPEL treatment. After encountering trailer sway on the highway, Jeremy takes a few minutes to share his first trailering experience with the C8 and he breaks down exactly where the center of gravity is on the car and how to best position the car in the trailer.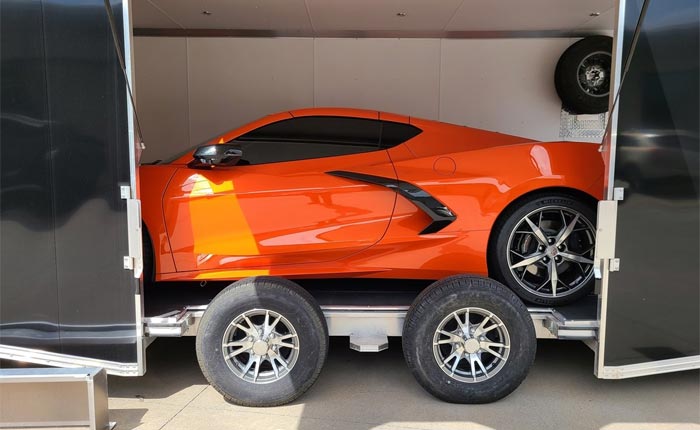 From Jeremy Welborn via YouTube:
If you find yourself trailering your 8th Gen Corvette for some reason, the center of balance is a key safety factor. The graphic I've included shows the center of balance for the 2020 Corvette, which is quite different from the previous generation. Watch the video for a more detailed analysis and some trailering tips.

Source:
MidEngineCorvetteForum.com

Related:
[VIDEO] 2020 Corvette Z51 Tips, Tricks, Modes, and Launch Control
[REVIEW] GM Premium Indoor Car Cover and Floor Mats for the 2020 Corvette
[VIDEO] 2020 C8 Corvette Lift and Jacking Locations