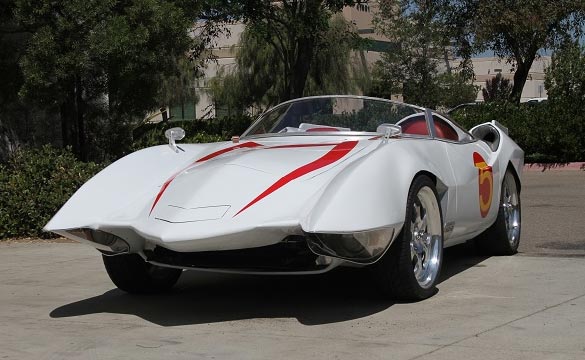 Corvette enthusiasts are pretty serious about America's sports car, but car customizer Mark Towle really takes his love for his favorite car to a whole 'nother level.
You see, when he was a child, Towle watched the famous Japanese cartoon show Speed Racer religiously. "I've seen all 53 episodes," he says, "including one that was never aired; it was supposed to be the first episode of the next season, but the show got canceled."
All grown up now, as the owner of his own car customizing business, Towle's living a childhood dream – making his living by building replicas of Speed Racer's car, the Mach 5, which start about at $72,500. Not bad for the ultimate boy racer, huh?
Of course, for his special creations, he starts out with a donor C4 Corvette, which he carefully chooses. "I try to find the nicest cars I can, the kind that have been well taken care of for a long time," he said.
Thus begins the process of building the cars by hand, and when we say hand, we mean only the two hands of Mark Towle. He does all the work himself, except for painting, and even insists on adding the graphics. "If you're not a fan of the show, it is almost impossible to get the M right," Mark points out.
Using special molds, he custom makes each panel from fiberglass and says his finished product weighs 1,000 pounds less than the factory Corvette.
But the cars are more than just a body replica on top of a Corvette chassis. They're realistic. Towle even crafts several features inspired by the show, including a remote control "pigeon" that really flies, buzzsaw arms, and a periscope rear-view camera. Right now, he's building the ultimate Mach 5 for a person who wants the bubble top, the jacker arms that lifted the car above the competition in the show, retractable wings, among others.
See more photos of Towle's Mach 5 creations at Corvette Online.

Source:
Corvette Online

Related:
Oh No! Is SpeedRacer Selling His Mach 5 Corvette?
Spike TV to Air the Building of the Corvette Mach 5
Win The $100,000 Speed Racer Mach 5 Corvette