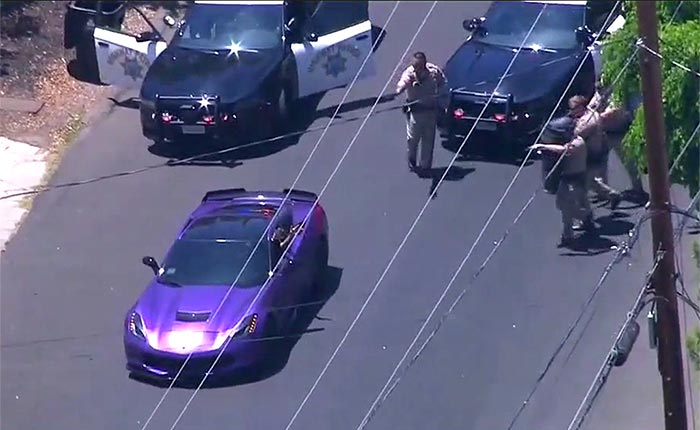 Chalk up another victory for OnStar over the bad guys.
California Highway Patrol says the General Motors high-tech security system played a key role in the apprehension of a stolen C7 Corvette coupe in the San Fernando Valley area around 1:15 p.m. Thursday.
While high-powered sports cars like this purple-wrapped Stingray can sometimes lead police on dangerous high-speed chases, this one came to an uneventful conclusion rather rapidly.
"OnStar contacted CHP Dispatch to notify us" of the stolen Corvette on the 405 near Rossville Boulevard, Sgt. Steven Geraty told FOX 11 News reporter Ed Laskos. "After a short pursuit, about three minutes, the vehicle was disabled by OnStar."
Aerial video shows five officers immediately surrounding the vehicle, weapons raised, while the suspect raises his hands into the air and is taken into custody.
Inside the Corvette, authorities found narcotics and boxes containing several high-powered assault weapons. "There was AK-47s involved, and there was handguns, 1911s (pistols), quite a mixture of guns – magazines with an extended drum magazine," Geraty said. "They're very dangerous weapons."
Chris Yzaguirre, who retired from the Los Angeles Police Department after more than 30 years and dozens of chases, tells FOX 11: "These things happen in a second. They either go really good or they can go bad so having OnStar or a feature like that technology is always a plus."

Yzaguirre knows it's important for the target of the pursuit to be stopped in a safe area where no else is put at risk, pointing out a key advantage of the GM system is that a pursuing officer "can communicate with OnStar and the other officers, say let's wait another half a block [so] maybe they're passing in an area where there's a low population and it's an open field or something like that."
OnStar tells FOX 11 that it works with law enforcement to stop thieves, explaining: "An OnStar Advisor can send a signal to disable a stolen vehicle's engine and gradually slow the vehicle to an idle speed to assist police in attempting to recover a member's vehicle, once authorities have confirmed conditions are appropriate and safe."
Yzaguirre also said that the system ensures the car can't be restarted by the suspect, "and isn't it nice that we can make sure a bad guy doesn't get a second chance at trying to hurt somebody out there?"
Another important feature of OnStar is that if officers think they may have spotted a potential stolen vehicle, they can ask OnStar to send a signal to flash the taillights a couple of times to confirm it's the right one while the suspect is totally unaware.
You can watch the full news report at foxla.com.

Source:
foxla.com

Related:
[VIDEO] Stolen C8 Corvette Crashes During Pursuit in Midtown Detroit
[ACCIDENT] High Speed Chase of a C7 Corvette Ends with a Crash in Houston
[VIDEO] Two Men Sitting in a C8 Corvette Were Shot by Unknown Assailants on Saturday Night