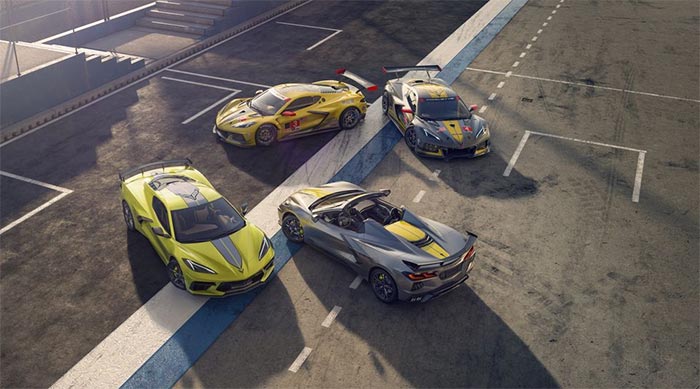 Photo Credit: Chevrolet

Could Chevy one day make a track-only variant of its wildly popular mid-engine Corvette for customers?
General Motors Sports Car Racing Program Manager Laura Klauser tells Muscle Cars & Trucks it's a possibility.
While such a car isn't on the drawing board right now, Klauser doesn't flatly nix the idea.
Asked by MC&T if she believes there's enough customer interest for a track-only C8 variant, Klauser says: "I think there is, yes."
Such a car wouldn't be unprecedented in Corvette history, after all. Remember the five original Grand Sports from the C2 era that were track-only homologation special raced by drivers like Roger Penske, A.J. Foyt, and Jim Hall? Zora Arkus-Duntov actually wanted to build 120 more Grand Sports to compete with the Ford Shelby Cobra, but GM canceled the program in 1963.
There's also the fact that long-time rival Ford already has plans to sell a limited three-year run of 45 Multimatic-built Ford GT Mk II cars, each a $1.2 million unrestricted and unregulated racer that promises a 700+ horsepower 3.5-liter twin-turbocharged EcoBoost engine with race-proven aerodynamics and phenomenal handling.

While most people couldn't afford a Corvette cut from such a mold, don't you think it's very likely that Chevy could easily find enough rich folks to make a racer-only variant profitable.
First, though, Corvette Racing's priority is getting a C8.R ready for the switch to GT3 competition that's coming next year. IMSA has been kind enough to grant Chevy a grace period to make a gradual change and run the existing GTE car for maybe the next two or three seasons with modifications.
"I think we'll see where the world of GT3 could take us. There might be some future opportunities that come from there, but we really need to take it step by step," Klauser said. "If we try to rush into too much all at once, we're not going to do anything right. We're being very careful because we're very proud of the quality of our product and we don't wanna let that fall."
Asked about a possible C8 Corvette GT3 customer car for privateer race teams, she also tells Muscle Cars & Trucks that the company is "exploring everything."
"You know obviously we have a connection with Callaway Competition from the C7 program that they were doing, so we've been chatting with everyone and it's quite a big program to work out," Klauser said. "There's a lot of parts. There's a lot of questions that are still unanswered, and it's just that you have to take them one by one and figure it out."

Source:
musclecarsandtrucks.com

Related:
Laura Klauser Offers Update On the Corvette C8.Rs Conversion to GT3 Specs for 2022
GM Still Working Out Details for 2023's Corvette Racing Program
[VIDEO] 2022 Corvette C8.R Special Editions Shown at Belle Isle Launch Event