Sometimes it isn't until the dust settles that we can put our finger on an ideal spec for any given Corvette. Once production totals are released and we've seen every color in person (and some too often), it is easy to have some buyer's remorse, or at least want a re-do on our order.
When the Grand Sport returned better than ever for a stint on the seventh generation of America's Sports Car, I was enamored with two specific GS set-ups. In no particular order those were the Gray and Tension Blue of the Collector's Edition (still my favorite C7 special edition), and, the Admiral Blue and White/Red throwback to the best looking C4. After four years of experience though, there might be an LT1 Widebody spec that's even more desirable to your author. My favorite theme park, Corvette World of Dallas, has a near-perfect incarnation of the car I would go back and order if I could.

It is an extremely rare and beautiful Black Rose manual Z07. Just 345 Grand Sports received the "don't call it purple" paint job in 2017, with an additional 53 units in '18 for a "Grand" total of 398. The supercar-baiting Z07 package was only featured on 1,230 of the GS Coupes' 9,912 build-out in '17, and the 7-speed manual only found its way into 22% (2,227) of the GS Coupes for the inaugural year of production.

Locating a car that combines this holy trinity of options is nearly impossible, so, this one was immediately added to my favorites list on every site with a posting. Having said that, there are a couple of chinks in its armor. In a prime example of wanting to turn back time to order this car yourself; the next buyer to take delivery will be the fourth person to have done so and they will be starting with a healthy odometer reading of nearly 27,000 miles. Even with 1,000 marathons under its belt, it is still posted for five-bucks shy of $70,000, not bad when you consider its $92k MSRP, but still a lot of bread!

Speaking of sticker shock, like the $200k ZR1 from a few weeks back, "Rosie" features the odd pairing of a hard-core track pack and base seats. There are a couple of other minor boxes I might have checked if I was fortunate enough to have been owner #1, but in the end, none of them matter. The existence of a car this close to perfect is enough to make this enthusiast smile and imagine a time down the road, when the kids are out of the house and I'm in a position to add my name to line seven of its title. If you become caretaker #4, 5, or 6, pamper her for me, she deserves it!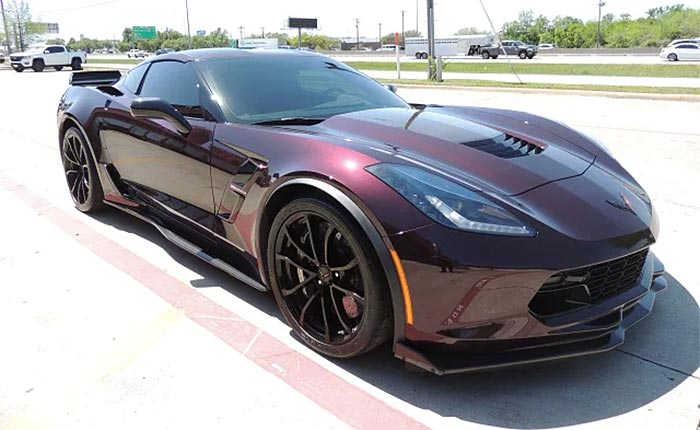 Source:
corvetteworlddallas.com

Related:
Colors We Would Like to See on the C8 Corvette: Purple!
Black Rose Metallic Production Numbers Finalized for 2018 Corvettes
[PICS] Black Rose Metallic Returns to the 2017 Corvette