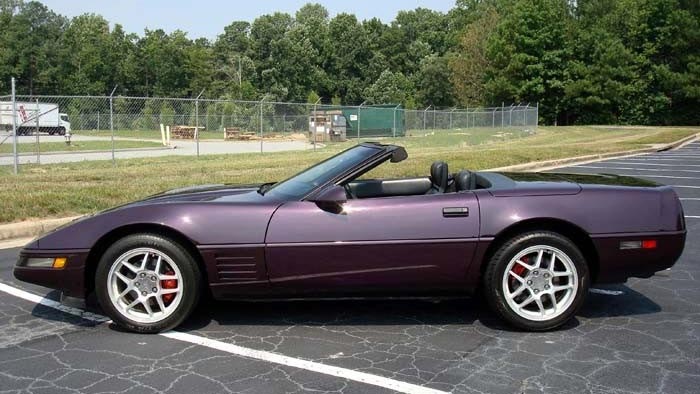 With the release of the 2017 Corvette Order Guide, we are pleased to see GM opting for something a little bit different when it comes to the four new exterior colors. We've already seen in person the new Admiral Blue and Watkins Glen Gray. The third new color is called Sterling Blue Metallic which we've read is a version of the dark blue Cadillac color called Adriatic Blue, but we do not have confirmation on that yet.
But it's the fourth new color we are really jazzed about as Black Rose Metallic will return to Corvettes since it was last offered in the early 1990s.
Black Rose Metallic first debuted on the 1992 Corvette and it ran for three years, 1992-1994. The color was not for everyone although it earned a respectable 9.2% take on its first year before falling to 4.3% in 1993 and closing out at 5.4% in 1994. During the three year run, only 4,088 Corvettes out of 65,339 were featured in Black Rose Metallic making the three year production totals fairly rare.
To refresh your memory on how Black Rose Metallic looks, we had to turn to our sister website www.CorvetteImages.com and our friends at Atlanta's BuyaVette.net for some archived photos of a 1992 Corvette Convertible wearing the color. Seeing it again, Black Rose does remind me more of a Burgundy than being a pure straight-up Purple car like many of the wraps we see today.

Because Chevrolet is bringing back the original name "Black Rose Metallic", we do think they will use the retro version of the color as it was shown on the C4 Corvette. However, just to be on the safe side, we looked a the current color palettes on Chevrolet cars and found that the Chevy SS Sedan (the four-door Corvette!) also features a similar shade called Alchemy Purple:

So know having showing you both new and old versions of what we think the new Black Rose Metallic Corvette exterior will look, what are your thoughts on the new color? Tell us in our comments section below or leave us a note on Twitter and Facebook.

Source:
Corvette Images

Related:
2017 Corvette Order Guide Details New Corvette Options and Colors
Harlan Charles Confirms the Return of Admiral Blue on 2017 Corvettes
Chevrolet Introduces the 2017 Corvette Grand Sport