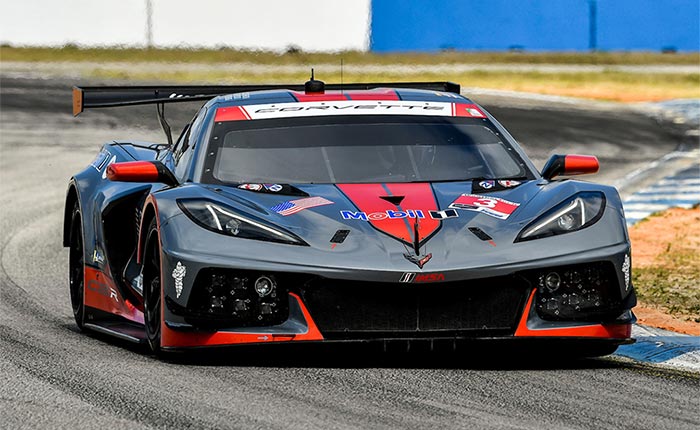 Photo Credit: Richard Prince for Corvette Racing

With so many changes coming in the motorsports world, where will Corvette Racing be competing in the next two years?
We should know General Motors' decision on the focus of its racing future within the next 45 days, the company's new motorsports director Mark Stielow tells Sportscar365.
"The biggest challenges that we're working on right now is… on sports car racing," Stielow said.
With the GTLM class converging into GT Daytona Pro in 2022, he says they have been "working a lot on a conversion package for that" without building a full GT3-spec version and instead coming up quickly with a modified car of its GTE-spec C8.R that would still be eligible for the new division.
Stielow, who took over for Mark Kent last year, also says "there has been a lot of investigation, a lot of work has been done, on our end studying the LMDh proposal" that will be coming online in 2023.
"LMDh is very interesting to us," he says, "and there's going to be a lot of manufacturers in that space, so we've been heavily looking at that.
"So there's a lot of activity going on in that space… [and] there's going to be some exciting stuff going on in motorsports in the next few years."

In the LMDh class, Corvette would likely be competing against already-confirmed Audi, Porsche, and Acura, with BMW, Lexus, and at least one other manufacturer possibly joining the fray as early as the 2023 IMSA WeatherTech SportsCar Championship season, according to Sportscar365.
Stielow also says that with the addition of the GT Le Man class to this year's Chevrolet Detroit Grand Prix on June 11-12, the factory Chevrolet Corvette C8.Rs will compete for the first time in WeatherTech Championship history, although as a non-points race.
"It's always good to play on a home field," Stielow tells SportsCar 365. "We'll be racing in the shadow of the Ren Cen.
"Unfortunately, our competitors won't be showing up to race against the Corvettes, so we'll be running exhibition only. There are some prior commitments that Porsche has that they can't get out of, so we'll be running the Corvette exhibition. And the Cadillacs will be there strong and IndyCar also. It's always a fun event."

Source:
SportsCar365.com

Related:
Doug Fehan to Return to Corvette Racing as Brand Ambassador
Corvette Racing Expected to Get a Waiver to Race Current C8.Rs in 2022 IMSA GTD Pro Class
Corvette Racing to Run at Detroit's Belle Isle After IMSA Shifts Schedule