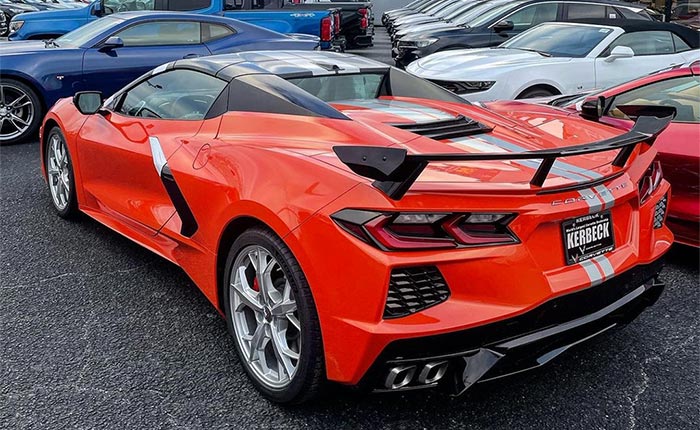 The new mid-engine Corvette may be the hottest car in America right now, commanding tens of thousands of dollars above MSRP, but what about five years from now?
Well, according to the experts at Kelley Blue Book, the 2021 Stingray is the top Sports Car in KBB's annual Best Resale Value Awards, which predicts how much of their original value vehicles will retain after the first five years on the road.
According to the publication's statistical model based on millions of vehicle transactions, KBB expects the new Corvette to retain 49.5 percent of its value, ahead of runners-up Dodge Charger Scat Pack and 2021 Porsche 911.
Here's why the Corvette is so highly regarded, according to KBB:
Well, the C8 Corvette is a great-looking car with a fantastic lineage dating back to 1953. What's more, with a Manufacturer's Suggested Retail Price (MSRP) still less than $60,000 [EDITOR'S NOTE: The price increased $1,000 on March 1], the 2021 Chevrolet Corvette represents one of the best values in today's market. With its 490-horsepower pushrod V8 engine, it offers true supercar performance at a price that's less than half of what you might pay for a Porsche 911.
According to KBB's Expert Review, the Corvette's new engine placement in the middle of the vehicle puts more weight over the rear wheels, thus enhancing grip, traction, and overall balance. "This new Corvette definitely feels more neutral than its predecessor when thrown into turns," KBB writes. "Yet it still manages to be completely bearable and actually quite comfortable for daily commutes."
The publication also praises the "striking design" of the new Stingray, saying it "could easily be mistaken for an Italian exotic" and "can run wheel-to-wheel with exactly that kind of machine."

Source:
Kelley Blue Book via GM Authority

Related:
STUDY: Chevrolet's Corvette was the Fastest-Selling Car in January
STUDY: Corvette Ranks 5th in Sports Cars in 5-Year Depreciation
REPORT: Corvette Ties for Third in the Kogod 'Made in America' Auto Index