Over the years, the Chevrolet Corvette has written, rewritten, and then wrote again the book of using advanced materials on a mass-produced sportscar.
Like the innovative "glass-mat thermoplastic composite" front bumpers of the 1984 Corvette, to the first mass-produced carbon fiber hood on the 2004 Z06 Commemorative Edition, Chevrolet's use of composites and carbon fiber has produced many "firsts" in the automotive industry. And that trend continues for the C8 Corvette.
The Corvette Team earned an industry award last November from SPE Automotive for the industry's first pultruded curved bumper beam. The curved beam was designed to match the rear styling of the car while offering the same protection in low speed crashes as an aluminum bumper but at a weight savings of nearly 5 lbs.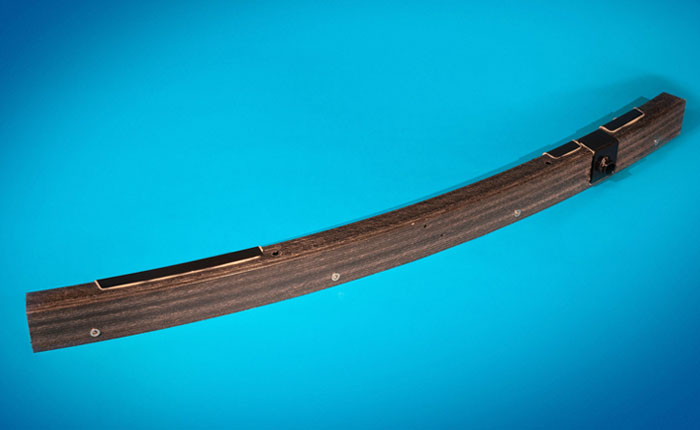 Tonight we came across a video on YouTube that shows how the pultruded carbon fiber curved bumper beam is made. The beams are created in "highly-automated production cells" by Shape Corp. in Michigan and the process is as complex as it sounds:
The process sees optimised fibre and fabric guide systems feed the complex set of reinforcements into chrome plated steel Radius Pultrusion moulds. The line controls a complex set of reinforcements including carbon fibres running from a creel, biaxial, triaxial and stitched unidirectional carbon fabrics – all with glass surface tissues for stabilization and a better surface finish. The installation is set to deliver an annual production capacity of 70,000 parts.

While many of the C8 Corvettes competitors sell for two, three or four times the amount of the $60,000 base Corvette, people constantly ask why is it so cheap? Corvette Product Manager Harlan Charles likes to turn that question around by asking why are the competitors so expensive?
It's through the innovative use of mass production that helps to bring these once-pricey composite and carbon fiber materials into America's favorite sports car. And every single one will have the industry's first pultruded carbon fiber curved bumper beam.
But Wait! There's even more info on the C8 Corvette's pultruded carbon fiber curved bumper beam at www.automotivemanufacturingsolutions.com

Source:
Automotive Manufacturing Solutions

Related:
The C8 Corvette is Loaded with 21st Century Composite Materials
The 2020 Corvette Earns a Spot on Wards 10 Best Interiors for 2020
The C8 Corvette Stingray is Named MotorTrend's Car of the Year