It was just about a month ago that CorvetteBlogger contributor Jeremy Welborn offered up this video on the proper jack and lift points for the 2020 Corvette after witnessing a video showing the C8 Corvette that was lifted in the wrong place. Because the weight distribution is now 40/60 with the engine behind the driver, you have to have the jack or lift mounted to the chassis locations properly or the unthinkable could happen as the lift is raised.
Unfortuately, this happened late last week as the owner of a new 2020 Corvette Stingray whose claims that techs at a Chevrolet dealership in Jacksonville improperly lifted his car which resulted in the car falling off the lift and landing hard on the shop floor. The impact caused body damage to the car and broke out the windows.

To add insult to injury and unbeknownst to the owner, photos of the wrecked Corvette were shared to Instagram leading the owner to post "That's my [email protected]#%ing car, how the hell did this get on Instagram?" asks Jake Miller, the owner of the Torch Red Stingray. He added that it's "not a broken lift; [email protected] techs that put it on the lift improperly" is what caused the Corvette to fall off the lift.
In Jeremy's video from March, he also shares this photo from the reveal of the 2020 Corvette that shows the proper jacking locations. It appears that some are confused by the punchouts on the frame rail where our graphic is marked "Do not lift here":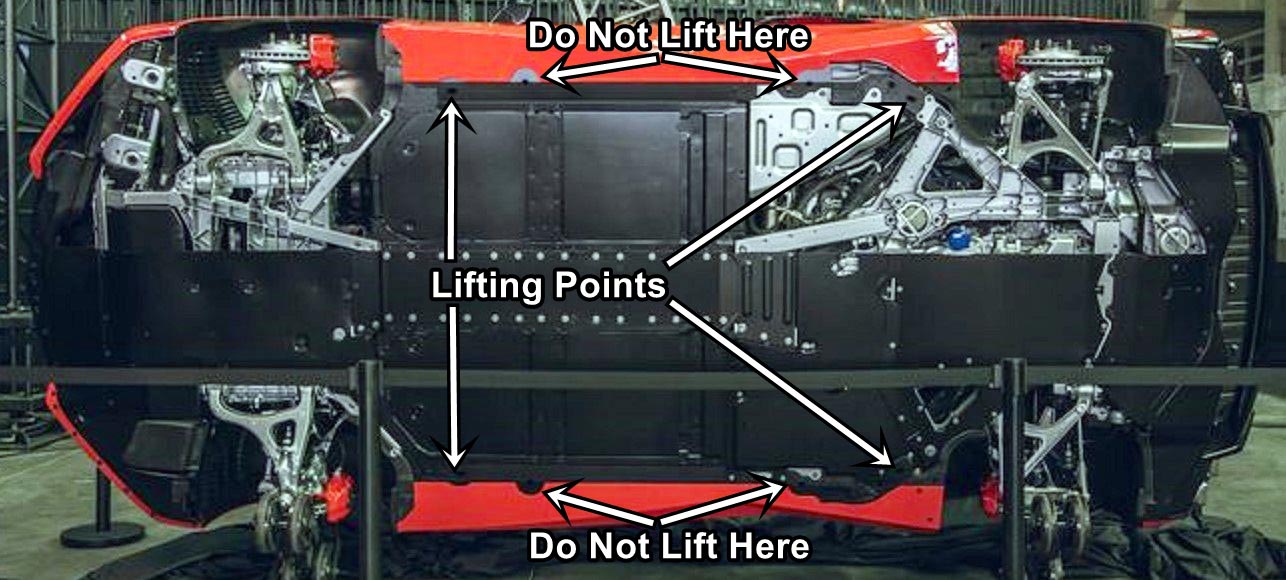 Here is the actual page from the 2020 Corvette Stingray's Owner's Manual about utilizing the proper locations for lifting your car:

We're feeling pretty bad for Jake and hope that the Chevrolet dealer takes really good care of him. Unfortunately, dealers just don't have replacement C8 Corvettes on the lot and so while an insurance settlement is most likely in his future, we hope that the dealer will try to make him whole again with an allocation as soon as possible.

Source:
autoevolution.com

Related:
[VIDEO] 2020 C8 Corvette Lift and Jacking Locations
[VIDEO] How To Properly Load Your 2020 Corvette on a Trailer
Download the 2020 Corvette Stingray Owner's Manual