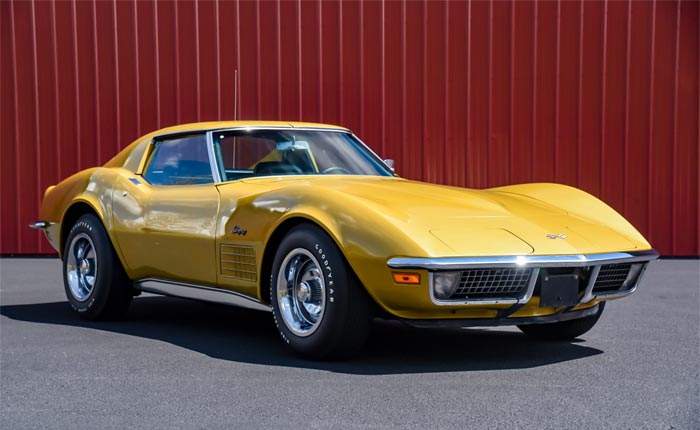 Want to take a trip back in time to St. Louis and see a 1971 Corvette rolling off the assembly line?
That's impossible, of course, but the next best thing is currently on the market.
Indeed, they don't come much more original than this War Bonnet Yellow 1971 coupe on the auction block at BringaTrailer.com.
This incredibly preserved Stingray has gone through just six owners over the past 49 years and has been driven slightly less than 7,200 miles during that time – including less than 500 miles since 2003!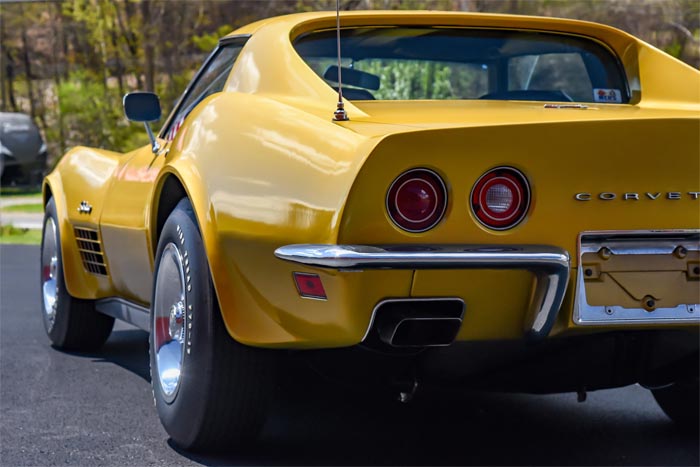 As one person who judged this time capsule survivor at Bloomington Gold last year put it, "this is one of the finest 70-72 Corvettes I've ever known, seen or judged. The condition is better than you'd even expect for the low mileage on the car."
That doesn't mean it's perfect, as photos do show a few chips in the paint and a seam or two in the fiberglass starting to show.
But as one person commented, "They're only ORIGINAL once guys."
After apparently being built during the last week of production for '71s, the car was sold new at Matt Slap Chevrolet in Philadelphia and then moved on to four owners in Florida, Idaho, California, Texas, Massachusetts and New Jersey before the current seller bought it last year.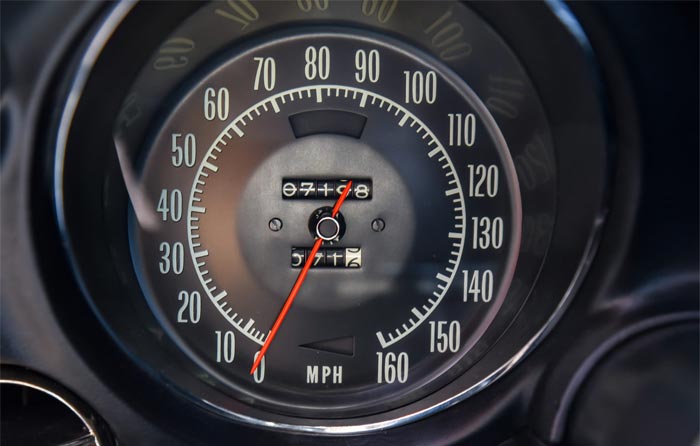 Naturally, over the years, this Corvette has won every award available, including the NCRS Bowtie Award, NCRS Duntov Mark of Excellence Award, Bloomington Gold, Bloomington Gold Survivor, and Bloomington Gold Benchmark, the most recent award earned in June 2019. It's also served as a Danbury Mint Photo Reference Model.
The Benchmark awards are given to cars that "appear not only unrestored, but also preserved within a minimum of 95% of Typical Factory Production," according to a certificate included with the car, which adds: "They truly represent the 'benchmark' for those who want to know what a brand new, factory original Corvette really looks like. Benchmark cars represent the standards which historians, judges, and future restorers can use to determine factory authenticity."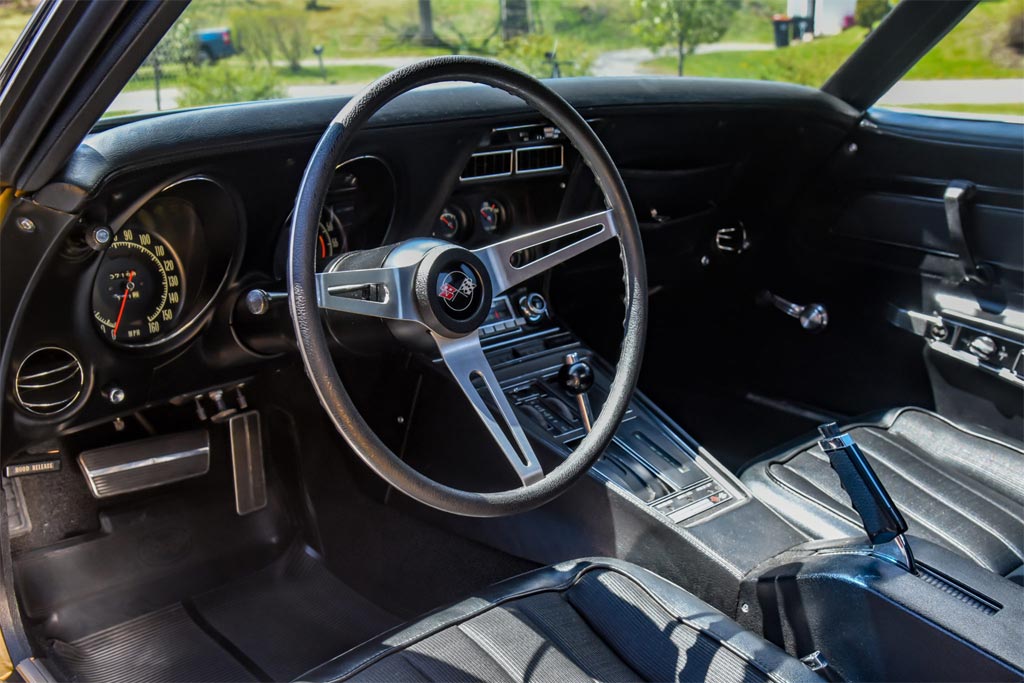 The Duntov Award – called "the ultimate Corvette achievement" by NCRS President Vito Cimilluca and NCRS Judging Chairman Roy Sinor in a 2010 letter to the owner – "is shared by only the few who have been willing to make the sacrifices necessary. Reaching a score above 97 twice, once at a national convention, is surmounted only by the passing of the Performance Verification Test, which is a real feat both physically and emotionally. You should be proud."
The new owner will receive that letter along with plenty of other documentation, including the previous awards, copies of previous titles, a copy of the window sticker, the build sheet, an NCRS Shipping Data Report, component decoding sheets, and transferable New York registration.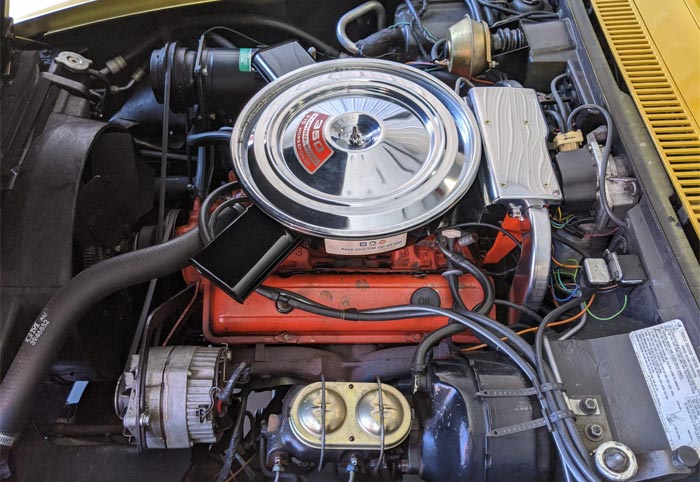 The window sticker, by the way, shows a total MSRP of $6,521.45, with $849.45 worth of options, including air conditioning ($464.50), power brakes ($47.40), power steering (115.90), F70x15 white lettered tires ($43.65), and AM/FM pushbutton radio ($178). No-cost choices included the TH400 three-speed automatic transmission and black vinyl interior. The car has its original 350 V8 rated at 270 horsepower and 360 lb-ft of torque, with a Rochester Quadrajet four-barrel carb, cast-iron exhaust manifolds, and a factory air cleaner housing with a chrome top. The interior still looks nearly flawless, with the center console, dash pad, and gauges in nice condition. This was a space-age car back in the day, coming equipped with fiber optic lights that let the driver know when bulbs were burned out.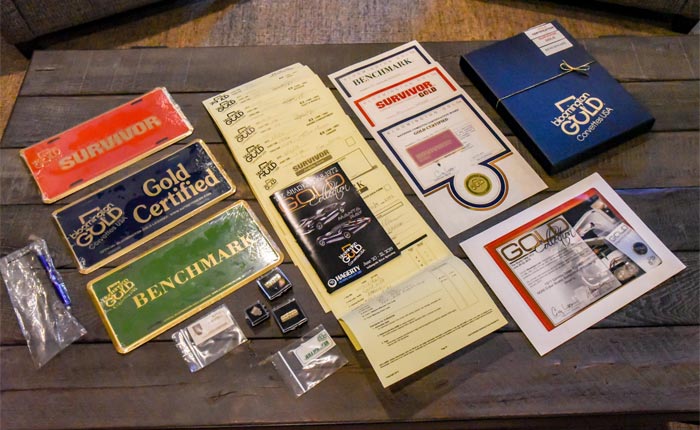 A former owner posted this comment on bringatrailer, saying he owned and campaigned the car for 10 years. "I've owned many low mileage C3 cars," he wrote, "and this car is the finest I have owned. I believe it is the highest flight scoring unrestored pre-1971 car the NCRS has ever seen. You will not find a nicer unrestored C3 anywhere with absolutely no excuses. Any buyer will be proud to own this car. It expect it is in the same state as it was when I sold it 2 years ago, but any serious buyer should verify that. This car has every NCRS and Bloomington award that exists. In my opinion, this is the high water mark for unrestored C3 Corvettes."
Bidding ends in six days, and the latest offer is $35,100. How much would you be willing to pay for this rolling piece of Corvette history?

Source:
BringaTrailer.com

Related:
Corvettes on Craigslist: 1971 Corvette LT-1 Coupe
Corvettes on eBay: Funky 1971 LT-1 Corvette Stingray Barn Find
The Best Corvettes of the 1970s: No.1 – The 1971 Corvette