You just gotta watch this video of a 1999 Vette Kart for sale out of Arizona!
This is one of the coolest C5s I've ever seen, although you'd have to be a car enthusiast to even realize it IS a Corvette at first.
After having covered 118,000 miles over the past two decades, this fixed-roof coupe has been transformed into an off-road buggy.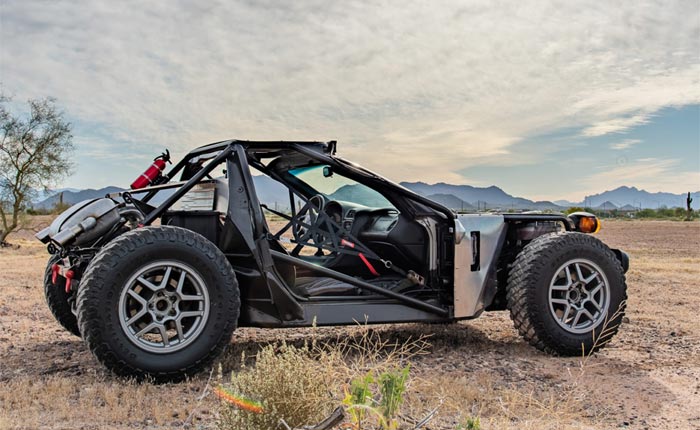 It's currently up for sale on Bring a Trailer, and with six days left in the auction, the highest offer for this very unique C5 has climbed to $11,500.
While it's billed as an off-road buggy, the five-minute video accompanying the listing shows the vehicle in action on several public roads, and boy does that 345-horsepower LS1 V8 engine sound mean when hooked to a six-speed manual transmission and a new 2019 Camaro Z/28 muffler.
Most dune buggies we've seen haven't been powered by a Corvette engine, so we sure do wish the video had also included some time off-road so we could get a first-hand look at the action it's really intended for!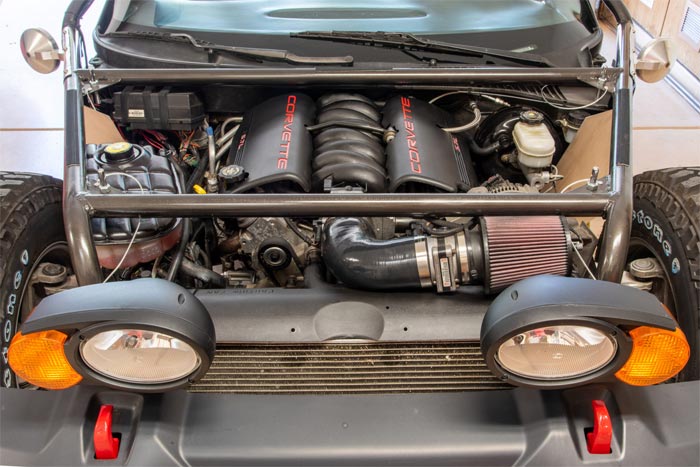 As mentioned, this vehicle started life as an FRC, but the drastic transformation saw the body removed, the front and rear frame rails shortened, and an exterior cage fabricated from DOM tubing.
They kept the Corvette chassis and cowl, along with the suspension but raised the car using factory adjusters, and fabricated an engine cover, cowl splash shields, and rear panels out of 6061-T6 sheet aluminum. Then they kept adding lots of cool features like a Jeep Wrangler Rubicon front bumper, DOT-certified Hella headlamps, LED taillight assemblies with turn signals and reverse lights, tow hooks, a front light bar, and a fire extinguisher behind the driver.

We especially like the look of the wheels and tires, which are 17-inch C5 Z06 wheels inside Firestone Destination MT2 tires that are 265/70 front and 285/70 rear. The seller does point out that those modifications forced the TPMS, ABS, and DSC systems to have to be disabled, and the larger tires, of course, lead to speedometer readings that are wrong so that means you might get a ticket for speeding, if you're not careful.
Of course, the patrolman that pulls you over might just want to take a look at your vehicle and forget about a ticket!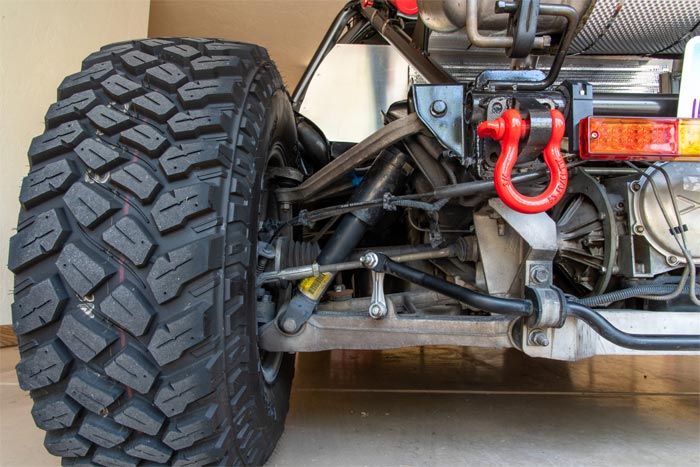 We especially like that they retained most of the factory interior so you're still riding in relative comfort compared to most dune buggies. That includes the factory dash, console, carpet, instrument panel, and seats, though you may not recognize the latter because of the very cool woven cloth that's covering them.
The car seems to drive great in the video, and it appears that the new owner will be ready to roll as soon as he picks it up, since extensive maintenance six months ago included a coolant flush, an oil and filter change, air and fuel filters, synthetic transmission and rear differential fluids, new spark plugs, and a brake fluid exchange.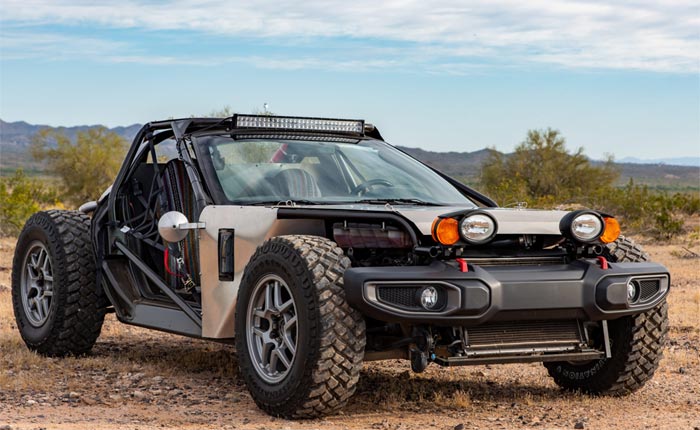 Mechanically, the LS1 engine remains intact, though modifications include a mild performance camshaft, Kooks long-tube headers, high-flow catalytic converters, a performance clutch, and a relocated battery with a disconnect switch.
So what's your opinion? Has being cooped up in my house for the past couple of months left me slightly batty, or is this really a very, very cool C5?
I think I'm in love!

Source:
BringATrailer.com

Related:
Found on Facebook: 1984 Corvette Vette Kart For Sale in Georgia
[PICS] How About Putting a C7 Vette Kart Under the Tree This Year
[VIDEO] Roadkill Inspired C4 Corvette Dune Buggy Plays in the Sand