"Have you ever seen anything that was such a bad idea that it was a good idea? Stripping a Corvette completely down to the bones to create the world's meanest go-kart was certainly the best idea of the decade. Is it safe? Probably not. Is it awesome? Yes. Will it make you a legend? Also yes."
That paragraph above comes from the opening lines on a classified ad for a 1984 Vette Kart and it was too good not to use. This particular C4 Vette Kart was found listed for sale on the Facebook Marketplace in Conyers, GA for $4,900.
The Vette Kart craze, if you can call it that, began in 2010 when Hot Rod Magazine light-weighted a 1985 Corvette to the extreme. While initially drawing the ire of Corvette enthusiasts, many have since come to realize the cool trend can potentially give new life to a worn-out car. And unfortunately, there's a lot of worn-out C4s out there.

Those responsible for building this 1984 Vette Kart did a great job in executing their vision for a road-worthy kart that actually looks good. The frame was given a flat-black paint job while a carburetor sits on top of the formerly fuel-injected Cross-Fire fuelie. There are no hanging wire harnesses or other distractions that we've seen on other builds. We particularly like the integration of the rear taillights into the frame and while the front headlights rest on a specially welded posts.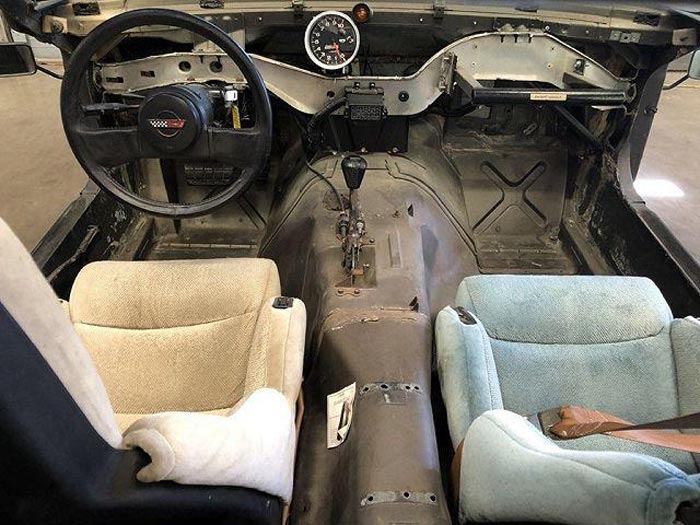 The interior is sparse with only a speedometer hanging where the dash once was. The seats don't match and the cloth material is looking pretty bad, but with the hard work out the way, the new owner can spend time customing this Vette Kart to their own tastes. It wouldn't take much to dress up the Vette Kart but I'd be looking at some additional safety items before driving this thing at speed on a highway.

We noticed the price shown on the car's windshield was $8,500 while the description of the Facebook ad reads $5,500. The Vette Kart's price is now at $4,900 which is a more realistic price for a 1984 Corvette regardless of whether or not it has a body on it.
Like what you see? Are you ready to be the legend in your hometown? The 1984 Vette Kart can be seen at Turn & Burn Motors in Conyers GA. Call (855) 860-1104 for details.

Source:
Turn & Burn Motors via RoadandTrack.com

Related:
[PICS] How About Putting a C7 Vette Kart Under the Tree This Year
Found on Facebook: 1998 Corvette Kart
Found on Facebook: 1998 Corvette Kart