We spent years hunting down pictures of camouflaged mid-engine Corvettes, trying to determine even the smallest tidbits about what lied underneath GM's proprietary black and white patchwork. Customers have only just begun taking delivery of their new, fully-uncovered eighth-generation Corvettes but one owner has already made us a bit sentimental by taking their new baby to be draped in a new form of camo.
This black, high-wing, Z51 Stingray has already graced our website with delivery donuts and now it is back with a new look referred to as Urban Camouflage.
The unique façade was done by Altanta Custom Wraps and incorporates matte black and satin blue vinyl sections with the C8's fresh, gloss black paint for a bold, yet somehow surprisingly subtle motif that is sure to polarize Corvette Nation.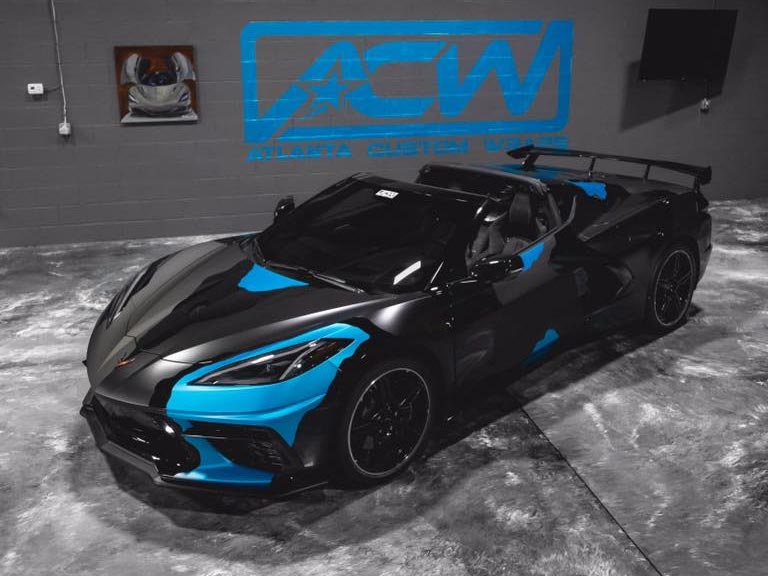 If you are in the camp that finds the urban camo livery even somewhat interesting, it is fun to let your mind begin to wander about additional possible color combinations that could be laid over the C8's 11 other exterior colors. This wandering eventually led your author's train of thought to the distinctive 2020 'Vette that was ordered by fellow CB contributor, Jeremy Welborn. If you haven't seen the car in question yet, it is Sebring Orange over Tension Blue and an urban camo job that brought some of that sweet blue-ness to the exterior just might end up looking fantastic. Replace the matte black with some white and Jay-Dub could be onto something. The resulting C8 would be something that I, a lifelong Denver Broncos fan, would be delighted to take to a pre-game tailgate party. The allure of the LT2 would probably prove to be too powerful to keep me at the game and out of Colorado's canyons, but it is an experiment that I am willing to try!

What do you think of urban camouflage on the C8? Does it spark your imagination or is it an even worse idea than the urban sombrero? Let us know your thoughts below and submit the two colors that you'd add to an existing Corvette hue to make the most striking version of this style custom wrap.

Source:
Altanta Custom Wraps via Autoevolution.com

Related:
[VIDEO] Donuts at Delivery? Yes Please!
[PICS] This Black 2020 Corvette Was Once Driven in Camouflage by Harlan Charles
Is this the New Rapid Blue Peeking Out From Under the C8 Corvette's Camouflage?