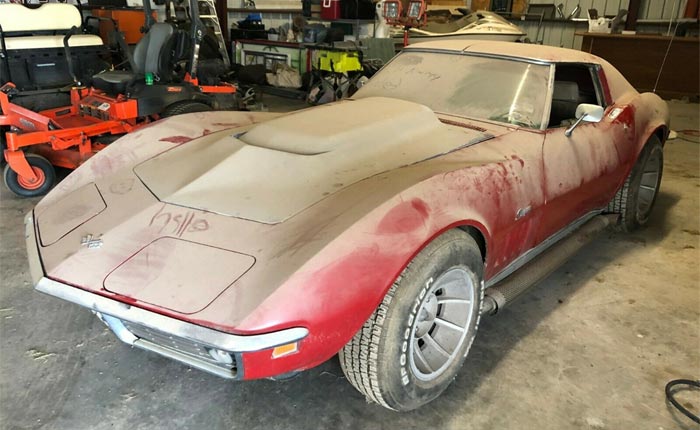 You might want to take a dose of Dramamine before you watch this video showing a barn find 1969 Corvette coupe!
I got a little dizzy watching the wild camera work as the camera swished and swooshed, zigged and zagged all around this classic C3 Stingray and left me feeling like I had just been on a roller coaster ride at Six Flags.
Based on the tremendous layer of dust coating the car, it's not a stretch to believe the seller's contention that it's been in storage since 2006.
Despite its lack of use, though, the car hasn't been neglected over the past 13 years, the seller says, noting it "was turned on weekly to keep fluids and all flowing properly." The motor does turn over, but the car is not running now but "might just need fresh battery and fuel," he says.

Right now, this no-reserve Corvette has attracted 21 bids on eBay with the highest offer standing at $11,300, with action coming to a halt next Monday, Oct. 21 at 11:20 p.m.
That could be a real bargain … if the seller's supposition that a matching numbers big block 427 L36 is really under the hood. Some posters on barnfinds.com believe it's actually a small block.
To his credit, the seller admits he's not a car expert and would be "glad to try send pics of engine block if told where code can be located to decode it!"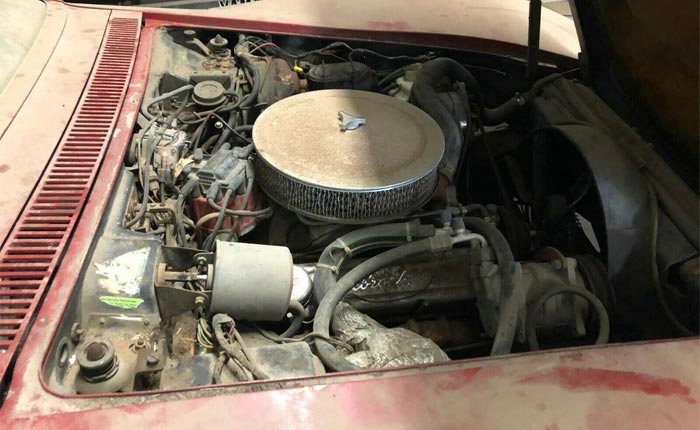 Since he isn't an expert, though, take it with a grain of salt when the seller boasts that "nothing is missing" on this "complete car!" – including factory AC, power brakes/steering, and chrome bumpers said to be in "great condition with a good polishing."
Furthermore, he claims the car is "super solid" with "super straight" lines and appears to be "super solid from chassis and no dents or dings anywhere." Super!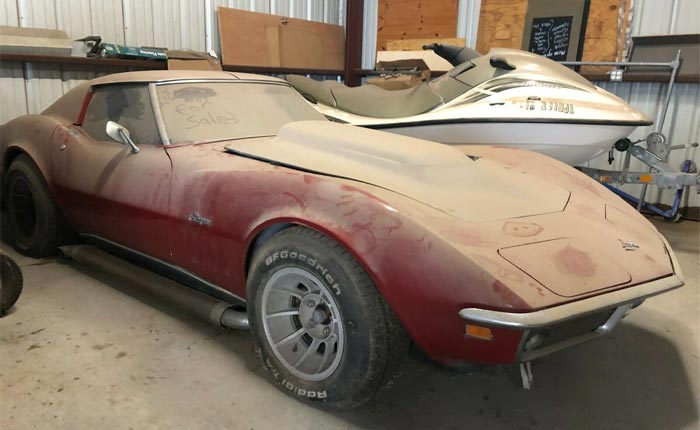 Underneath all that dust, the paint is said to be "good quality." The car has an aftermarket L88 Corvette hood and side exhaust pipes, along with the original T-tops.
The electrical system was "working perfect" before it was parked in the barn, including the gauges and flip-up headlights. We'd be hesitant to believe that a pesky vacuum leak or two hasn't developed while it's been sitting, though.
What's your take? Would you be willing to gamble on this car having a real 427, and would you be content if it turned out to be a small block?

Source:
eBay.com via barnfinds.com

Related:
Apollo 12 Astronaut's 1969 Corvette 'AstroVette' Will Be Added to the Historic Vehicle Register
Corvettes on Craigslist: Barn Find Black 1969 Corvette Stingray
Corvettes on eBay: Abandoned 1969 Corvette Offered for $2,900