Early chrome bumper C3 Corvettes usually go for at least $35,000 to $45,000 in very nice condition. We even saw one L71 427/435 with an asking price of $129,900!
That's why this 1969 Corvette convertible – done up in an eye-catching black, no less – caught our eye on craigslist.
With an asking price of only $15,500, this one might have some potential to be a great daily driver or, on a grander scale, the skeleton of a nice restomod.

While the car doesn't retain its original 350/350 engine, it still "runs and drives" as it sits. That's an accomplishment for a vehicle that's half a century old, I guess. Photos show what is said to be a "clean" interior and "decent" paint – and the seller boasts of new tires, newer gas tank, and new convertible top.
As sometimes happens with these old cars, the odometer stopped working at 50,000 miles, so we really have no way of telling the real number.
Still, wouldn't this car have been quite the ticket to travel to Woodstock 50 years ago?
Even on the golden anniversary of that mega-rock event, this Stingray might still be the ticket, if you're not an enthusiast hung up on having a perfect car.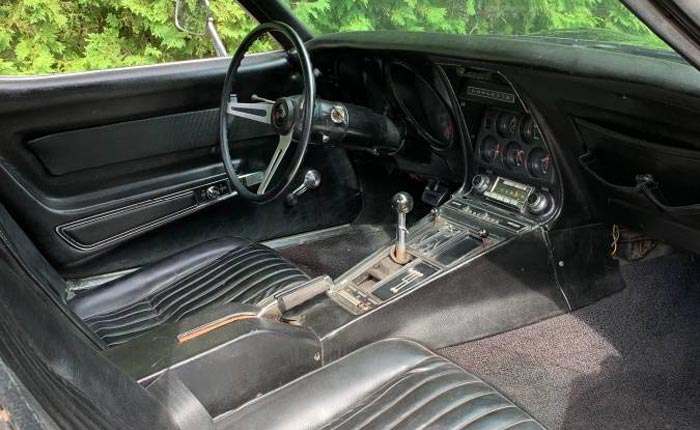 Barn Finds posted this car, and we read through several of the comments from their readers. Some folks are thrilled about this Stingray, others not so much.
One person named Spit451 called it a "nice C3!" – adding that it "appears to be well taken care of with only minor modifications. Shows what would be considered 'normal light wear' with the telltale areas corroborating this. After owning about a dozen C3s and a few later models. I find the C3 easier to work on & more reliable. Hard to tell for sure, but from what is shown, it doesn't show the side effects of the rust & issues that can be seen on early C3s. General condition (& lack of alterations – no aftermarket radio) bode well for the new owner & the few missing interior parts are easy to come by."
RPOl35, meanwhile, confirms the price "on the surface" seems "very reasonable" for a Stingray convertible, but cautions "probably too reasonable." He believes "you get what you pay for" and goes on to say "there is nowhere near enough information about this car" to make a sound judgment. "If a thorough inspection reveals nothing hugely extraordinary, then yes a good deal but that's a big if," he concludes.
George M. notes that "the asking price is cheap, but the car is 50 years old." As the owner of two C3s in his life, he warns "believe me, there are many issues," noting that the rear wheel bearings probably need attention for starters, along with the vacuum system for the headlights and the space-age fiber optics.
As for this writer, while the price isn't as cheap as my memories from high school in the mid-1970s when I could have bought an immaculate '69 for just $3,500, it still seems like this car does have a lot of potential. At the same time, memories of a more recent 10th anniversary 1979 Trans Am that my wife and I bought for just $9,000 keep popping into my head. We quickly spent thousands more getting it running right and still had a whole lot more interior and paint expenses to go before we finally stopped burning the money pit and sold it. Still, it'll always be one of those cases where we'll think, "What if?"
Could this '69 Corvette be the same way?

Source:
Craigslist via Barnfinds.com

Related:
Corvettes on eBay: Abandoned 1969 Corvette Offered for $2,900
1969 Baldwin Motion Phase III Corvette: A Story of Lost and Found, Lost and Found Again
Australian Woman Celebrates 100th Birthday with a Ride in a Corvette