Back in the 1970s, a neighbor of mine fueled my long-time in a red 1969 Corvette convertible. I've often wished I had had the foresight to buy a few dozen of those Stingrays back when you could get an "immaculate" one for $3,500 or less.
Well, here's my chance to buy a '69 Corvette for the very retro price of $2,900.
Only trouble is, unlike those "like-new" examples from my teen years, this barn find is missing a few pieces, including its front clip, 350/300 hp motor, and four-speed manual transmission.

On the bright side, the seller does have a clear title in hand and says the frame and birdcage appear to be "pretty solid." The new owner would definitely have a blank slate to work with and tons of modern and reproduction parts available to make this into a very cool restomod.
The original Can Am White paint has long since been covered, and the blue interior is only a shadow of its once lovely self.

Still, close your eyes and take a second to dream about what this neglected Stingray could look like with a little tender loving car and a lot of hard work and bucks added to the mixture.
"This car needs a total restoration but is a great start for someone," the eBay ad promises.
Here's hoping someone takes up the challenge.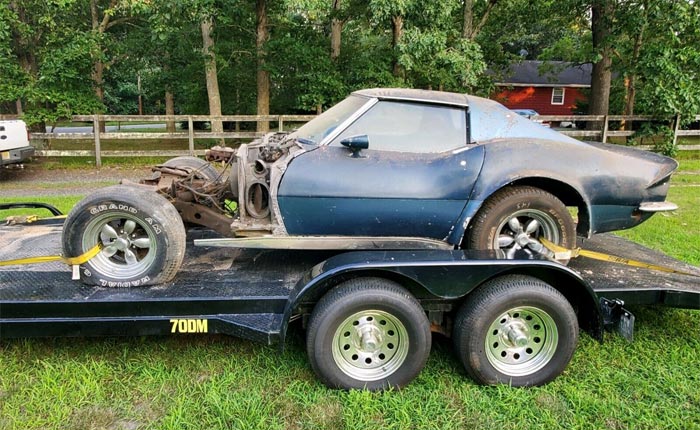 Source:
eBay via barnfinds.com

Related:
Corvettes on eBay: Barn Find Fuelie 1965 Corvette Sting Ray
[VIDEO] This 1955 Corvette Sees Daylight after Being Parked for 40 Years
[POLL] What Would You do with this Barn Find 489-Mile 1972 Corvette?