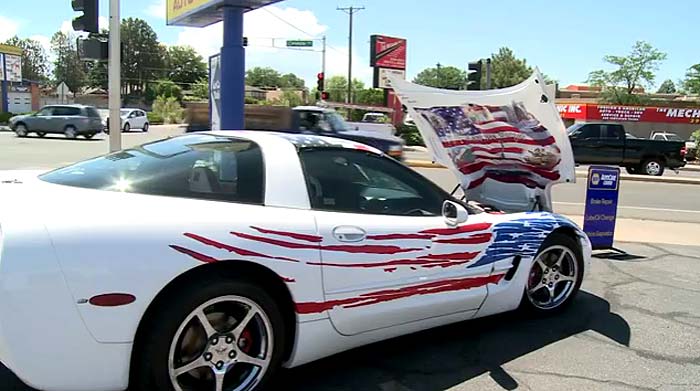 Law enforcement officers are getting a bad rap these days.
And an Albuquerque businessman is tired of it.
"I grew up really respecting law enforcement and nowadays, I think even himself and other law enforcement–you just don't see that respect anymore," says James Santistevan.
He bought a custom 1998 Corvette with a patriotic paintjob that includes murals under the hood honoring heroes from 9/11 and Pearl Harbor and other historic events. It's also been signed by country singer David Ball.
Now Santistevan, who bought the Corvette from an Arizona veteran, has decided to raffle off the car and give the money to law enforcement-related organizations.
Half will go to the Intrepid Fallen Heroes, and half will go to the Ten82 Fund, which benefits all New Mexico lawmen who have lost their lives and has donated $100,000 since humble beginnings in 2008.
A maximum of 7,500 tickets will be sold for $20 each, so your chances of winning the car are better than the Lottery.

"There's been some bad incidents that have affected the morale within the police departments and affected the outlook–or the perception of the community towards police, and that's what we're trying to fix," said Sgt. Ryan Tafoya of the Bernalillo County Sheriff's Department.
To buy your tickets, visit www.Ten-82.com on the Web. Drawing will be held Oct. 8, 2016.
"My hope is that we are able to show our first responders that we are there for them, that we do support them, and that support is coming across the community," Tafoya said.

Source:
krqe.com

Related:
St. Bernard Church to Offer a 1961 Corvette in 28th Annual Raffle
Win These Two Special Corvettes in the 2016 Corvette Dream Giveaway
Corvette Forum Members Raise $1 Million for St. Jude Pediatric Cancer Center