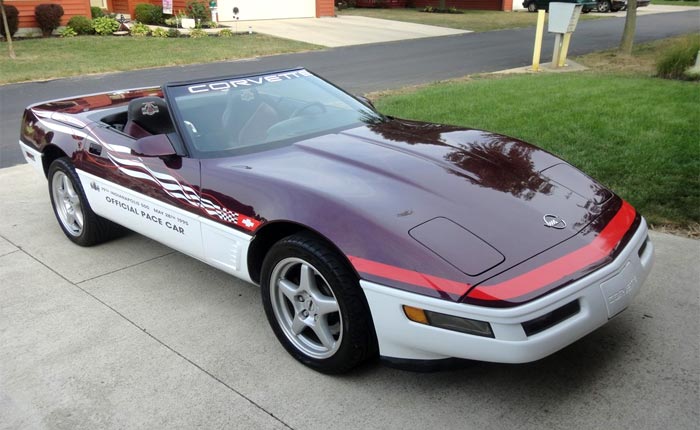 The fourth generation Corvette (C4) marked its eleventh anniversary in 1995 and the General Motors design team made the C4 more refined than ever before. Corvette took a step up in performance and sophistication with larger brake rotors, traction control and optional run-flat tires. But the big news for 1995 was the selection of Corvette to pace the Indy 500. It marked the third time that the marque would do the honors and the second time that Chevrolet would build a limited number of Pace Car replicas for the public.
1995 Corvette Indy 500 Pace Car
The Corvette Pace Car for the 1995 Indy 500 was a stock Corvette except for safety-features mandated by the Indianapolis Motor Speedway. These included strobe lights, a special rollbar, five-point safety harnesses for the driver and passenger, and an on-board fire suppression system. Chevrolet built three cars to be the actual race pace car, two with automatic transmissions and one with a 6-speed manual gearbox. Jim Perkins, then Chevrolet General Manager, at the helm of the Indy pace car for his third time, used the manual transmission car for race day activities.
After a somewhat subdued paint scheme for the 1978 Pace Car, Chevrolet gave their designers a little more freedom of expression for 1995. They came up with an eye-catching Dark Purple Metallic and Arctic White two-tone paint scheme with a broad red strip across the front that transitioned into a stylized flag on the sides of the car. A special Indy decal package and Indy emblems were also included.

Chevrolet Corvette Pace Car Replicas
Chevrolet rewarded each of their top Corvette retailers with an allocation of one Corvette Pace Car replica, resulting in a production run on only 527 replicas. For an extra $2,816, the Pace Car package could be ordered by checking regular production option (RPO) Z4Z on the Corvette order sheet.
All 527 Pace Car replicas sold to the public were convertibles that carried over the Indy purple and white paint scheme. Automatic transmissions were standard, as were black leather sport bucket seats with purple inserts and Indy logos on the headrests. The option package also included a white convertible top, silver ZR-1 wheels, electronic air conditioning and a Delco/Bose audio system.
Corvette features for 1995
Design changes for all Corvettes for 1995 were limited to new fender gills, since an all-new Corvette (C5) was already on the way for 1997. The LT-1 engine was in its fourth year of production and was rated at 300 hp at 5,000 rpm and 340 lb-ft of torque at 4,000 rpm. The coupe weighed 3,203 pounds and the 0-60 mph time with the LT-1 was around 5.1 seconds. The quarter mile could be covered in 15.1 seconds with at a speed of 95 mph.

Summary
Our most recent Vette-N-Vestments Corvette Price Guide lists the value of a 1995 Indy 500 Corvette Pace Car at $29,000 at the high range with average examples selling for $22,500.
The '95 Pace Car is now 20 years old and, due to age and accidents, there are now less than 527 existing examples. A potential buyer may have to do some serious research to find a suitable candidate.

Related:
[VIDEO] Jeff Gordon Drives the 2015 Corvette Z06 Indy 500 Pace Car
[PIC] Throwback Thursday: Betty Skelton and the 1956 Daytona Pace Car Corvette
GM Goes Green with Brickyard 400 Corvette Pace Car