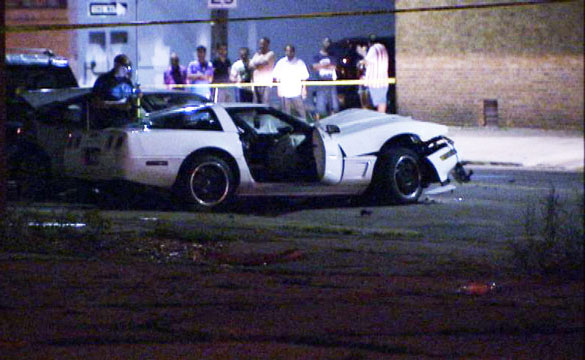 Their injuries may be the least of their worries after two men in Hamtramck, Mich., wrecked a C4 Corvette they are accused of stealing last week.
Hamtramck Police Chief Max Garbarino says the driver was driving irresponsibly and spinning the tires in the Corvette, prompting lawmen to give chase.
That pursuit ended at Carpenter and Mitchell when the Corvette rammed a pair of parked cars.
"Fortunately, there was no one in the parked cars," the chief said, "and there was no one around when the guy crashed."
The driver tried to run from police after the wreck but was apprehended.
"The driver actually got out and attempted to run, but the officer quickly pursued him," Garbarino said. "Ultimately the driver and the passenger were transported to the hospital," where the passenger was in "pretty serious condition," according to the chief.
The action took place with spectators at the Hamtramck Polish Festival watching.
"We saw the police when they started moving and then we started to smell tires burning," said Wonda Miller, a festival worker.
"We saw all kinds of cops going up and down the alley searching," said witness Dave Smith.
The two men could be facing serious charges, including grand theft auto.
The crash left the front end of the Corvette badly crumpled.

Source:
myfoxphilly.com

Related:
[STOLEN] 1965 Corvette Stolen During the Woodward Dream Cruise
Police Recover Stolen 2003 Corvette Z06 after High Speed Pursuit Ends in Crash
Calgary Police Find Betsy, the Stolen 1962 Corvette