It's sometimes said, they broke the mold when you were born.
That's not the case with this unusual 1963 Corvette Grand Sport, currently for sale on AutoTrader.
Only five Grand Sports were originally built by Chevrolet in 1963, but through a special exclusive licensing agreement in 2009, General Motors authorized so-called "continuation cars" to be built by the Duntov Motor Company.

These continuation Grand Sports were made using the original blueprints and body molds made during the restoration of original Grand Sport #2, the only one of the original five that was never wrecked.
These continuation cars, which are officially licensed by GM, aren't to be confused with restomods or the replica cars being built by Superformance to customer specs with modern touches.

The continuation cars even continue the VIN sequence, and #21 – built in 2015 – is now being offered for $209,995 by its Crestwood, Kentucky owner.
This car utilizes a clamshell type of body construction with a one-piece outer body bonded to a one-piece inner body (firewall, floor, back bulkhead, back deck). To save weight, the continuation cars are built 7/8 the size of 1963 production split-window coupes. Aerodynamics were tested on race tracks and in GM skunkworks development by Zora Arkus-Duntov, namesake of the new company that built the continuation cars and paid GM a royalty for each.

No. 21 has been prominently featured in media reports, including in the September 2019 issue of Vette Magazine and Alan Sevadjian's recent "Fifty Years of the Corvette Grand Sport" book (a copy of which is included with the car), as well as on YouTube and in an MTV music video in 2020.
The car features a 700-horsepower 427 custom V8 built by McCabe Motorsports with a Holley Q-Series Black Diamond carburetor and a Tremec six-speed manual transmission. Described as being in immaculate condition, it has a unique bronze paint job with a black stripe and a light brown leather interior and has been driven only 3,000 miles. Also included is full documentation, with a detailed build and materials list, along with trophies and a collection of literature pertinent to the car.
Chevrolet stopped production of the Grand Sport after only five were built in 1963 because of a corporate decision against racing. These continuation cars, which came along more than 50 years later, are proof that sometimes history does repeat itself.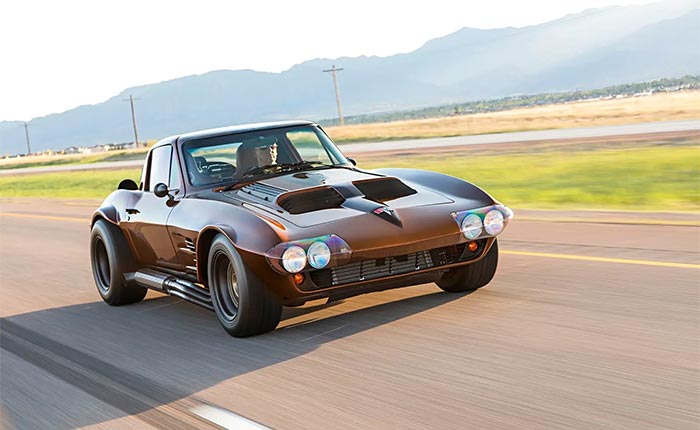 Source:
autotrader.com via Topspeed.com

Related:
[VIDEO] Superformance '63 Grand Sport is Rocking a 750-hp Mercury SB4 427 Boat Motor
Corvettes for Sale: '63 Corvette Grand Sport Replica Roller on BaT
Corvettes for Sale: 1963 Corvette Grand Sport Continuation Offered at Auburn Auction